Shame on Lebanon! Sending refugees back to Syria
Syrians attempting to flee across the Lebanese border to escape the violent clampdown of the regime of President Bashar al-Assad are being rounded up and returned to an uncertain fate by Lebanese security forces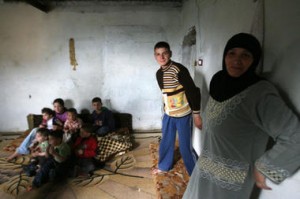 Syrians attempting to flee across the Lebanese border to escape the violent clampdown of the regime of President Bashar al-Assad are being rounded up and returned to an uncertain fate by Lebanese security forces, according to local residents.
In an attempt to escape a siege by Syrian security forces, hundreds of residents of the small town of Tell Kalakh – near the Lebanese border – placed provisions into plastic grocery bags and their wounded relatives onto cheap synthetic blankets and crossed into Lebanon, where they hoped to find safety with distant relatives and sympathetic residents of the northern city of Tripoli. Crossing the muddy and shallow Kabir river on foot within plain view of the Lebanese army checkpoint in nearby Wadi Khaled, the refugees and wounded made it to what they thought was the safety of Sunni Muslims in the area, who have long hated the neighbouring Syrian regime.
But according to witnesses, their relief was short-lived as almost all the refugees were rounded up within hours of their arrival over the weekend by Lebanese intelligence agents acting under orders to prevent Syrians from escaping the violent crackdown by Assad's Ba'athist regime.
"There were roadblocks everywhere," said Abu Rabih, who would not give his real name for fear of arrest. "It was impossible to hide who these people were, they were looking for Syrians escaping Tell Kalakh."
The arrested refugees were returned to the Syrian security services by daybreak, said residents and witnesses interviewed by the Guardian. "They caught most of them and sent them back through the crossing," said Abu Rabih, who runs a shop a few hundred metres from the illegal border crossing over the river.
"Why does Lebanon send our brothers back to be killed and tortured by these monsters?" The revelations came amid fresh reports of gunfire in the town of Moadimiyeh, close to Damascus on Tuesday.
Residents could not be reached, but those in the neighbouring town of Daraya reported seeing tanks and smoke rising amid the crackle of gunfire. The National Organisation for Human Rights in Syria said more than 750 civilians have been killed since the uprising began in mid-March. The Lebanese army has refused to comment on allegations that they are colluding with the Syrian regime to return refugees, but one security official, who asked for anonymity, said Damascus has been exerting enormous pressure on Beirut to prevent such flights. They also want an end to what they say has been a steady trickle of weapons from Lebanon to the protesters in Syria, whose struggle appears to be taking on more of a sectarian insurrection than the other revolutions that have roiled the region this year.
"It's not easy to be Lebanon in this situation," the official said. "The lack of government [in Beirut] weakens any attempt to form a humane policy, while at the same time, we have to battle Syrian accusations that all of their demonstrations are the result of terrorists infiltrating Syria from places like Tripoli. They've threatened to send troops into northern Lebanon repeatedly, and with that area's history of Sunni tensions with the Alawite, we consider Tripoli and area around it to be on the verge of exploding into violence already. So we are concerned that as more Syrians enter Lebanon in the north, that situation might become just like what we're seeing in Syria."
Tripoli – Lebanon's second largest city – is predominately Sunni, like many of the Syrian protesters, but has a significant population of Alawites, who ethnically and religiously identify with their co-religionists at the top of the Syrian regime. Violence between the two communities has regularly flared over the past 30 years, including street battles during the summer of 2008 that killed at least 100 people. Security officials and residents fear a return to violence as the situation in Syria escalates.
Residents of Tell Kalakh, a town of 20,000 residents just a few kilometres over the border in Lebanon, describe a situation more akin to a military siege than a security operation to punish protesters in their hometown. Hundreds had managed to make the crossing before this weekend's crackdown by Lebanese security forces.
"They surrounded the town with tanks and armoured personnel carriers," said Abu Mahmoud, a Syrian who works in a petrol station just over the border, as he described events in his homeland. "We knew there was a problem when we saw that the secret police were arming Alawite villagers with weapons to come and fight us in the city centre. When we realised what was going to happen, we sent out as many women and children as we could."
Abu Mahmoud, and other Syrians from the town, described a terrifying environment in which tank and heavy machine gunfire regularly strike into the centre of the city, hitting unarmed protesters.
"There are dead bodies in the streets and snipers will shoot anyone who tries to move them," he said. "If you're wounded, sometimes no one can reach you and you die slowly on the street. And anyone who tries to get to a hospital is arrested immediately. Even if you're not a protestor and your home is struck by bullets, there's no medical care, unless you can cross the river into Lebanon."
Abu Salim, another Syrian from the town hiding in Lebanon, said: "It started out as non-violent protests for more freedom, but as they shot unarmed people and arrested and mistreated our women, we knew we had to fight or we would die. We are a religious people and to mistreat our women is a grave offence."
Among those who made it across the border were several men suffering head injuries, including a small group who were dragging five wounded men wrapped in blankets with them.
One man was already dead from a severe head wound when they arrived and local residents quickly rushed his body off for a secret burial. A local doctor treated two of the men for mild gunshot and shrapnel wounds and they were taken away by local residents into the safety of Tripoli.
But two men, seriously wounded with gunshot wounds to the head, were quickly loaded into private vehicles and rushed to Rahal hospital, about 30 minutes away. Although the men received treatment, they were placed under arrest in their hospital rooms by Lebanese military intelligence – which claimed they had failed to get proper entry stamps on their passports when they entered Lebanon.
On Sunday afternoon, a hospital employee confirmed to the Guardian that the men were still in the facility.
"Yes, they're on the third floor," said the orderly. "They have very serious wounds to the head and cannot be moved. But don't try and go up there, the secret police are arresting anyone who comes to see them. You should go, it's not safe here."