Houri: Campaign against Mikati is out in the open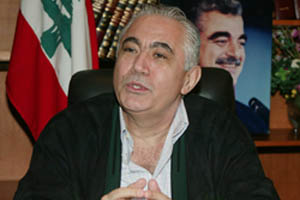 March 14 MP Ammar Houri said on Tuesday that the ongoing campaign against Lebanon's Prime Minister-designate Najib Mikati is out in the open.
This campaign was hush-hush before but Free patriotic Movement leader MP Michel Aoun, made it public he told Free Lebanon radio.
Several members of the Hezbollah-led March 8 coalition blamed Mikati for the delay in forming the cabinet . Aoun went as afar as accusing Mikati of siding with the former majority.
Houri added that the way the new majority is conducting itself over the formation of the new cabinet does not signify a happy ending.
According to observers Mikati has not been able to form the cabinet yet because Hezbollah is reportedly creating obstacles for insisting on including in the cabinet Faisal Karami , son of former PM Omar Karami as the representative of the Sunnis. Hezbollah is also reportedly hiding behind MP Michel Aoun's renewed demand for the ministry of Interior even though it was agreed earlier in March that the interior ministry will go to the centrist bloc of President Suleiman, Mikati and MP Walid Jumblatt.
The Ministry of Interior is currently allocated to President Michel Suleiman and is headed by Ziad Baroud who was praised following the 2009 parliamentary elections as one of the best Interior Ministers Lebanon has ever had .