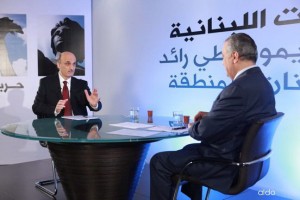 During an interview with MTV Monday evening Lebanese Forces leader Samir Geagea Commented on the reason behind the delay in cabinet formation : "Hezbollah and Syria, which are the main players in the new ( March 8) majority, want a "confrontational " cabinet that will void the protocols signed with the Special Tribunal for Lebanon and that will be a cover up for Hezbollah arms, while president Michel Suleiman and PM Designate Nagib Mikqati want a cabinet that resembles them and somehow represents the Lebanese situation."
He added: "Given the status of the defense ministry, they want to get the interior ministry portfolio to enable them to be in full control of the security situation in the country."
Geagea said "a cabinet of real technocrats is the best solution for Lebanon at this time "adding and "I mean technocrats and none of the familiar figures of the new majority should be in it."
Asked about MP Walid Jumblatt's new position after his criticism today of the new majority , Geagea said: I am not so sure he will change his position and return to March 14 alliance because he is keen on not upsetting Syria or Hezbollah
Commenting on the unrest in Syria he said : Where are Syria's allies in Lebanon? are they for democracy everywhere except for Syria ? He added :" What is happening in Syria is a humanitarian issue and the crackdown cannot go on like this , don't the Syrian people deserve democracy too?
Commenting on the new bylaws of his party he said : "They will be endorsed within two weeks and after that the party's base will elect the party's leader. He said this will be a democratic election and member can run".
This error message is only visible to WordPress admins
Error: No connected account.
Please go to the Instagram Feed settings page to connect an account.