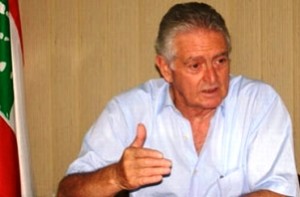 "If Prime Minister-designate Najib Mikati is not up to the task of forming a cabinet, then another figure should be assigned" National Liberal Party leader MP Dori Chamoun told Akhbar al-Yawm news agency.on Tuesday.
Most of the criticism over the delay in forming a cabinet was coming from the new Hezbollah led March 8 majority. This is the first time a key member of the March 14 alliance blames Mikati for the delay .
"It is unacceptable that the country remains without a cabinet. It is not personal with Mikati , but another person may succeed in forming a cabinet," Chamoun said
Chamoun dismissed Progressive Socialist Party leader MP Walid Jumblatt's recent statement: "I will not take his statement seriously, because if he had not acted the way he did in January…everything would have been well and there would not have been a cabinet vacuum."
Commenting on the possibility of a cabinet of technocrats he said that he is not against idea but asked who will these technocrats be" implying thta they will be following the orders of politicians anyway.
"The ball now is in March 8's court, which has to find a way out of the crisis it engaged itself in."
Several members of the Hezbollah-led March 8 coalition blamed Mikati for the delay in forming the cabinet . Aoun went as far as accusing Mikati of siding with the former ( March 14 ) majority.
According to observers Mikati has not been able to form the cabinet yet because Hezbollah is reportedly creating obstacles for insisting on including in the cabinet Faisal Karami , son of former PM Omar Karami as the representative of the Sunnis. Hezbollah is also reportedly hiding behind MP Michel Aoun's renewed demand for the ministry of Interior even though it was agreed earlier in March that the ministry will go to the centrist bloc of President Suleiman, Mikati and MP Walid Jumblatt.
Lebanese Forces leader Samir Geagea said last night during an interview with MTV : "a cabinet of real technocrats is the best solution for Lebanon at this time "adding and "I mean technocrats and none of the familiar figures of the new majority should be in it."
Jumblatt said yesterday that "neither his PSP party nor his National Struggle Front parliamentary bloc can any longer cover up for the vacuum and obstruction of constitutional institutions by the new majority that has failed miserably in forming a new government."
Hezbollah brought down PM Saad Hariri's government on January 12 over the Special Tribunal for Lebanon's (STL) imminent indictment which is widely expected to implicate Hezbollah members in the assassination of former PM Rafik Hariri in 2005.
Lebanon has been run by a caretaker government since last January. Mikati was appointed in January as the PM designate with the backing of the Hezbollah led-March 8 alliance, MPs Walid Jumblatt and Mohammad Safadi . March 14 leaders have repeatedly said that intimidation from Hezbollah's weapons helped secure the parliamentary majority for Mikati's nomination
Mikati, Safadi and Jumblatt were elected by March 14 voters during the 2009 parliamentary elections