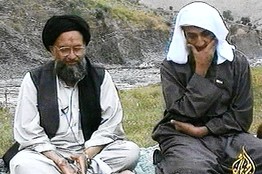 Al-Qaida in Iraq on Monday pledged support for al-Qaida's No. Two leader Ayman al-Zawahiri and vowed to revenge for the killing of Osama bin Laden by the U.S. forces in Pakistan.
Abu Baker al-Baghdadi, head of the self-styled Islamic State of Iraq (ISI), mourned bin Laden's death in a statement posted on an Islamic website on Monday.
"I tell our brothers in al-Qaida led by Ayman al-Zawahiri, go on with God's blessing and be glad that you have faithful brothers in the Islamic State of Iraq who are marching on the path of right, " Baghdadi said in the statement.
Baghdadi also pledged to revenge for the killing of bin Laden, saying "I swear to God that it is the blood and the destruction" what will be for his death.
However, the authenticity of the statement could not be immediately verified.
Al-Qaida organization has yet to name its new top leader after the killing of bin Laden in Pakistan, although observers expect that al-Zawahiri, who has been for years as al-Qaida's second-in- command, to succeed bin Laden.
Recently, the Iraqi security forces increased security alert in Baghdad and other cities as they expect deadly attacks to be carried out by al-Qaida militants in retaliation for the killing of bin Laden. xinhua