Unlikely Lebanon will have a cabinet anytime soon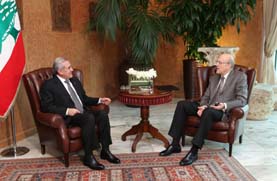 It appears that the Hezbollah led March 8 alliance is still dilly dallying over the formation of a cabinet by PM designate Nagib Mikati . The parties are blaming Mikati ,president Michel Suleiman and the regional developments ( Syrian uprising ) for the delay .
"According to what I know, there are no indications that a cabinet will be formed soon," Public Works and Transportation Minister Ghazi Aridi told LBC TV on Sunday.
" It is not as if the new majority is discussing a strategy… or preparing for a project on the national level… I do not know what is causing the delay in the cabinet formation ."
Sources denied to MTV as unfounded reports suggesting that MP Jumblatt, Aridi's boss had launched a new initiative aimed at facilitating the cabinet formation process.
Hezbollah MP Ammar Houri told MTV on Sunday : The circumstances during which the new cabinet is being formed are extremely complicated and the post-formation circumstances will be much more complicated."
MP Alain Aoun, a cousin of FPM leader Michel Aoun told LBC on Sunday:
"It is normal at the current stage for there to be someone who does not want to form a cabinet " adding " he who signs a decree approving of a cabinet has "the choice" of forming a cabinet or not , in reference to President Michel Suleiman.
"Suleiman may not want to form a cabinet at this time because he may lose his ally [outgoing] Prime Minister Saad Hariri. Suleiman may be waiting for a change in the balance of power, and therefore does not want to cooperate with the new majority."
Head of Hezbollah's Executive Council Sayyed Hashem Safieddine sounded more hopeful on Sunday: "The cabinet the Lebanese are awaiting will be formed and it will be in their service and will work hard on ending the repercussions of the policies practiced by the conspiratorial political camp over the past years."
Another Hezbollah official Sheikh Nabil Qaouq also sounded optimistic : "We have reached a solution on the interior ministry portfolio and we have reached the stage that brings us closer to the formation of the cabinet."