Egypt: Death toll of Christian Muslim clashes rises to 12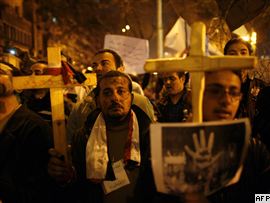 At least 12 people were killed and 232 injured in clashes that erupted outside a Coptic church Saturday night in Cairo, Egypt's state-run Nile TV reported on Sunday.
The Supreme Council of Armed Forces (SCAF), in a statement on its Facebook page, decided to refer 190 detained persons involved in Imbaba sectarian incidents to the supreme military council.
The SCAF also said it would "set up a committee to assess the damage caused by the clashes and to restore all properties and places of worship, adding that it will strongly face any attempt to mess with the worship houses.
The SCAF warned of the dangers facing Egypt during this critical phase and called on all communities in Egypt, the youth of the revolution, the national forces and Islamic and Christian scholars to stand like a wall against any attempt by forces of evil to tear the national fabric.
Prime Minister Essam Sharaf called an emergency cabinet meeting following sectarian clashes and decided to postpone his Gulf tour scheduled on Sunday.
Giza Governor Ali Abdel-Rahman said it is much quieter in Imbaba now and the police and the army were deployed there and have taken control of the situation.
MENA news agency said earlier that the victims include six Muslims and three Copts, among the injured two cases are in critical condition.
Clashes erupted outside Saint Mena Coptic Orthodox Church Saturday night in Imbaba neighborhood, Giza Governorate when groups of angry Muslims headed to the church where they said a Coptic girl was held inside for consenting to marry a Muslim.
On the other hand, a blaze erupted at Al-Azra (Virgin Mary) Coptic Orthodox Church in Imbaba neighborhood on Saturday night, and was under control now. There were no reports of any casualties but the church was severely damaged in the blaze.
Minority Coptics account for about 10 percent of Egypt's total population. Coptics and Muslims in Egypt generally live in peace but sporadic violence between them occur due to the construction of churches or romantic affairs between worshippers of the two groups. xinhua
Photo: Coptic Christians make up around 10 percent of Egypt's population
May 08, 2011