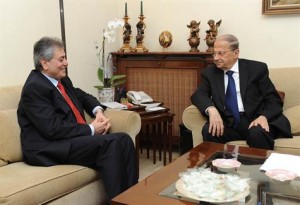 Syria's Ambassador to Lebanon Abdel Karim Ali described talks Friday with Free Patriotic Movement leader Michel Aoun as "good," National News Agency reported.
The visit comes just two days after the Lebanese Christian leader warned Prime Minister-designate Najib Mikati against announcing a de facto government.
The morning meeting at Aoun's residence in Rabieh, just north of Beirut, was also attended by Aoun's son-in-law, caretaker Energy Minister Jibran Bassil, the NNA said.
Ali described the meeting as "good," but declined to provide further details of the meeting.
Meanwhile, a member from Berri's parliamentary bloc, MP Ali Khreiss, said Lebanon was on the brink of the abyss.
"Lebanon, a nation that has suffered a lot, is today on the brink of the abyss due to the political vacuum as a result of the failure to form a national salvation government," Khreiss said in a statement.
He said Mikati was not willing to form a de facto government, adding that a decision to appoint a military officer to the Interior Ministry portfolio was not problematic to the Hezbollah-led March 8 coalition.
Lebanon has been under a caretaker government since Jan. 12 after March 8 coalition ministers resigned from Prime Minister Saad Hariri's Cabinet, causing its collapse. On Jan 25, Mikati was appointed prime minister-designate and has spent over three months trying to form the new Cabinet, which many believe has been stalled because of a dispute between Aoun and President Michel Sleiman over the Interior Ministry portfolio.
Sources close to Mikati signaled Wednesday that the prime minister-designate would announce a de a facto government if the row over the Interior Ministry was not resolved soon.
During an interview on FPM-affilitated OTV television station Wednesday night, Aoun warned Mikati against announcing a de facto Cabinet, saying such a government was doomed to fail.
He also lashed out at Sleiman and Mikati, blaming them for the delay in the government formation process.
Aoun also renewed his demand that the Interior Ministry portfolio be allotted to a member of his bloc, claiming that the performance of caretaker Interior Minister Ziyad Baroud was unsatisfactory.
Berri has reportedly convinced Mikati to put off plans to announce a Cabinet during the weekend come what may, pending a new round of consultations to break the three-month-long deadlock, a source close to the government formation talks said Thursday.