Protests Across Syria Despite Military Presence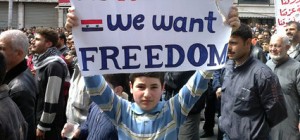 BEIRUT, Lebanon — In what activists declared a "Friday of Defiance," thousands of protesters gathered after noon prayers in dozens of towns and cities across Syria, despite the government's deployment of security and military forces in the most restive areas in a bid to stanch a seven-week uprising, activists and human rights groups said.
Activists said security forces fired on protesters in one town on the capital's outskirts, and the sound of gunfire could be heard over the phone in Homs, Syria's third-largest city, where tanks moved in from the city's edge. There were no immediate reports of fatalities, though activists cautioned that they had only preliminary accounts themselves.
"We answered the call to protest today, but the intelligence forces attacked us right away by opening fire on us," said a resident in Homs, reached by telephone.
Both sides in the uprising — the greatest challenge to four decades of the Assad family's rule — seem determined to impose their narrative on an uncertain public. Seemingly reeling just last month, the government has carried out a withering crackdown in the last two weeks, deploying the military and carrying out thousands of arrests in an attempt to retake the initiative and to force the opposition on the defensive. But despite the crackdown, protesters returned to the streets Friday, even in locales like Baniyas on the Mediterranean coast, Homs in central Syria and towns on the capital's outskirts, where hundreds of tanks have been deployed.
Wissam Tarif, executive director of Insan, a Syrian human rights group, said the biggest protests were reported in Baniyas and Jassem, a town near Dara'a, where protests last month helped galvanize the nationwide demonstrations. The military entered Dara'a on April 25, cutting electricity and phone lines and effectively occupying the city. The government said Thursday that it was withdrawing, and state television broadcast images of armored columns leaving, though residents insist that the military remains there in force.
"There is nothing going on inside Dara'a," Mr. Tarif said.
As on past Fridays, protests were reported in virtually all of Syria's regions — from the coast to the east, populated by Syria's Kurdish minority. In Damascus, a small demonstration of hundreds left the Hassan Mosque but was quickly dispersed. Larger demonstrations were reported in Hama, in central Syria, and Latakia on the coast.
Other activists said gunfire was also heard in Hama and Latakia.
Protests again gathered on the capital's outskirts, and as in past weeks, security forces prevented them from marching on Damascus, a symbol of prestige for the government of President Bashar al-Assad, who inherited power from his father, Hafez, in 2000. Protests were reported in Zabadani and Saqba, where security forces arrested dozens in door-to-door raids carried out before dawn on Thursday.
The government called on citizens to refrain from taking part in the protests, according to a statement carried by the state news agency SANA on Friday. In past days, the government has escalated its campaign to portray the protests as part of a plot fashioned abroad and carried out by elements inside the country bent on dividing Syria. Diplomats acknowledge that at least some protesters have carried weapons and fired on security forces.
"Yes to stability rather than chaos," one pro-government poster read in the capital.
"No one can prevent us from exercising our sovereignty and the right to decide on behalf of our country," said a pro-government Syrian analyst who asked not to be named. "Any country in the world has the right to arrest and kill armed gangs."
The crackdown comes amid growing international condemnations over the use of force to crush dissent. Insan has put the death toll at more than 600 since the uprising began last month. On Friday, the European Union was considering sanctions against Syria's ruling hierarchy, though there was disagreement on whether to single out Mr. Assad himself.
By: By ANTHONY SHADID