Fatah and Hamas ended their four year rift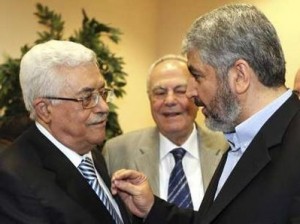 Palestinian leaders formally ended a four year rift between secular Fatah and the Islamist Hamas, at a ceremony in Egypt on Wednesday, a reconciliation their people see as crucial for their drive to set up an independent state. Israel, which in 1967 captured the territories — the West Bank and Gaza Strip — where the Palestinians seek statehood, decried the deal as a blow to prospects for peace.
"We announce to Palestinians that we turn forever the black page of division," Palestinian President Mahmoud Abbas, Fatah's leader, said in his opening address.
Israeli Prime Minister Benjamin Netanyahu said during a visit to London, "What happened today in Cairo is a tremendous blow to peace and a great victory for terrorism".
Hamas, whose founding charter calls for Israel's destruction, seized the Gaza Strip from Fatah forces in a brief Palestinian civil war in 2007. It has opposed Abbas's quest for a negotiated peace with the Jewish state. In what appeared as a sign of lingering friction, Hamas leader Khaled Meshaal did not share the podium with Abbas and the ceremony was delayed briefly over where he would sit.
Against expectations, neither signed the unity document.
Hamas leaders will meet Abbas next week, possibly in Cairo, to start work on implementing the accord, deputy Hamas leader Moussa Abu Marzouk said after the ceremony. In his speech to the gathering, Meshaal said Hamas sought a Palestinian state in the West Bank and Gaza, devoid of any Israeli settlers and without "giving up a single inch of land" or the right of return of Palestinian refugees.
Israel withdrew soldiers and settlers from Gaza in 2005. It has kept up settlement activity in the much larger West Bank.
Hamas has stated in the past that it would accept as an interim solution in the form of a state in all of the territory Israel captured in the 1967 Middle East war, along with a long-term ceasefire. The unity deal calls for forming an interim government to run the West Bank, where Abbas is based, and the Gaza Strip, and prepare for long overdue parliamentary and presidential elections within a year.
In his speech, Abbas repeated his call for a halt to Jewish settlement construction as a condition for resuming peace talks with Israel that began in September, but fizzled within weeks after it refused to extend a limited building moratorium.
"The state of Palestine must be born this year," he said.
Abbas is widely expected, in the absence of peace talks, to ask the UN General Assembly in September to recognise a Palestinian state in all of the West Bank and Gaza. Israel and the United States oppose such a unilateral move.
Diplomatic problems
Palestinians view reconciliation as an essential step toward presenting a common front at the United Nations and a reflection of a deep-seated public desire to end the internal schism amid popular revolts that have swept the Arab world.
But the deal presents potential diplomatic problems for Abbas's aid-dependent Palestinian Authority.
Much of the West shuns Hamas over its refusal to recognise Israel, renounce violence and accept interim Israeli-Palestinian peace deals. The United States has reacted coolly to the reconciliation accord. A State Department spokesman, Mark Toner, said the United States would look at the formation of any new Palestinian government before taking steps on future aid.
The Cairo ceremony was greeted with celebrations in the Palestinian territories. But the public displays were less enthusiastic in the West Bank, where Abbas's Fatah movement holds sway, and some doubted the deal was genuine.
"We have decided to pay any price so that reconciliation is achieved," said Meshaal. "Our real fight is with the Israeli occupier, not Palestinian factions and sons of the one nation." Meshaal later went to meet Abbas where he was staying in Cairo to discuss the deal, Palestinian sources said.
A spokesman for Abbas, Nabil Abu Rdainah, said the deal was signed on behalf of Fatah by Azzam al-Ahmad and for Hamas by Marzouk. It was not immediately clear why Meshaal and Abbas did not put their own signatures to the deal. "What we heard was that Abbas said he was the president of the Palestinian people of Fatah and of Hamas and not a leader of one faction only," said the Palestinian source on the signing.
Egypt has set up a committee to oversee implementation of the accord. Reuters