Mikati sources: The PM Designate won't quit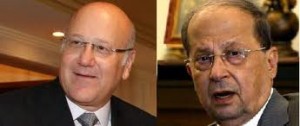 During an interview with Al Liwa newspaper PM Designate Nagib Mikati's sources condemned Free Patriotic Movement leader MP Michel Aoun's accusations over the delay in cabinet formation.
The FPM leader told Hezbollah's Al-Manar TV station on Monday that Mikati and Lebanese president Michel Suleiman are impeding the cabinet formation process.
The sources accused Aoun of "attempting to shift the blame to others pointing out that obstacles facing the cabinet formation started out with with demands for disproportionate share in the cabinet and then shifted to the portfolios as if the aim was to obstruct the formation of the cabinet."
The sources wondered "what General Aoun really wants and what is his aim . If the aim is to deliver a message of desperation to the PM Designate , then let everyone know that Mikati will never give up and if he is luring him to a debate, this also will not happen . The sources also wondered why Aoun's deputies are saying the General will escalate his attacks on Tuesday ."
The sources reconfirmed that" Mikati will not quit and one day he will present a cabinet lineup ( He has already presented 2 cabinet lineups) and when all the doors are slammed in his face he will present a lineup to the president and whether it will win the vote of confidence of the parliament or not he would have done his duty in accordance with his principles and let everyone else be held responsible for their actions.