FPM accuses Mikati, Suleiman of obstructing cabinet formation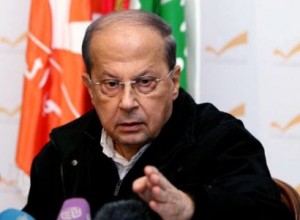 FPM leader MP Michel Aoun told Hezbollah's Al-Manar TV station: "The PM-designate Nagib Mikati and president Michel Suleiman are impeding the cabinet formation process and there are foreign reasons behind the delay in forming the new cabinet."
Aoun did not spell out the foreign reasons
A key issue in the government formation is reportedly the dispute between Suleiman and Aoun over the ministry of Interior which is currently being held by Caretaker Interior Minister Ziad Baroud who represents Suleiman. Aoun , backed by Hezbollah has been demanding this ministry and has been opposed to any share in the cabinet for Suleiman. Suleiman on the other hand insists that this portfolio should not be given to any extremist political group and should be held by a centrist.
Hezbollah is reportedly also creating obstacles for Mikati for insisting on including in the cabinet Faisal Karami , son of former PM Omar Karami as the representative of the Sunnis.
FPM and its allies are focusing their criticism against Suleiman and Mikati. MP Alain Aoun told OTV station :" The problem was not about Baroud as a person, but rather about the political sponsor of the interior ministry ( Suleiman ). How can we end the cabinet formation impasse if Suleiman doesn't approve the newly suggested candidates?"
Former minister Wiam Wahab a staunch ally of Hezbollah and Syria admitted that March 8 alliance failed in forming a cabinet because it has never taken governing Lebanon seriously . He told MTV that Suleiman is the main obstacle facing the cabinet formation and he now favors firing Mikati as PM designate .
In a change of heart Wahab praised Lebanese Forces leader Samir Geagea describing his recent moves as "positive"
Qanso
"Prime Minister-designate Najib Mikati should commit to our [principles] because he was named for the premiership on that basis," Baath Party MP Assem Qanso told MTV on Monday.
Mikati is responsible for part of the cabinet formation delay, Qanso also said, adding that the PM-designate presented two cabinet formation drafts to President Michel Sleiman.
"Suleiman signed neither of them, and I do not know why."
March 8 insists on being granted the Interior Ministry portfolio because parliamentary elections will be held soon, the MP also said, adding that the elections require an "ethical" minister.
"We do not doubt Interior Minister Ziad Baroud's morals, but we want…to cancel political sectarianism."
Mikati should be frank
Minister of State Jean Ogassapian, a key march 14 official told Future TV on Monday that Mikati should be frank with the Lebanese people and inform them on what is obstructing cabinet formation.
Ogassapian also said that Hezbollah is attempting to violate President Michel Suleiman and Mikati's jurisdictions.
"This stage calls for resorting to national dialogue." He said