Lebanon PM: All terrorists will meet bin Laden's fate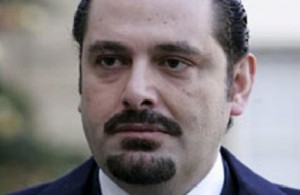 Commenting on the death of Osama Bin Laden , Lebanon's caretaker PM Saad Hariri said: Any Arab or Muslim who chooses terror as his path will meet the same fate as Osama bin Laden.
U.S. President Barack Obama said that the world's most wanted terrorist, al-Qaida leader Osama bin Laden, is dead. Mr. Obama made the announcement in a nationwide television appearance at the White House Sunday night. This development comes nearly 10 years after the catastrophic attacks by al-Qaida operatives on the United States on September 11, 2001.
Update on reaction to Bin Laden's death;
Jumblatt:
MP Walid Jumblatt in his weekly column in PSP's Al-Anbaa wrote : "The United States' success in finally eliminating one of the top icons of the terrorist school of thought is a significant event which is expected to have major political consequences."
Bakri:
Radical Islamist cleric Omar Bakri commented Monday on the death of al-Qaida chief Osama bin Laden by saying: The Arab world had "lost a leader," and said that he expected "revenge" attacks in Europe.
"The news of the death of Sheikh Osama has saddened and delighted us at the same time. It saddened us because we lost a leader in the Arab region and it is welcomed because he fell a martyr as he wanted," Bakri told AFP in Lebanon.
Bakri, a radical "Salafist" Sunni preacher , was sentenced to life imprisonment by a military court for inciting murder, but was freed on bail in November pending a new trial. He was defended by Nawar Sahili, an MP from Lebanon's militant Shiite Hezbollah movement. He lives in the northern Lebanese port city of Tripoli.
Originally from Syria but holding a Lebanese passport, Bakri denies having any direct link with al-Qaida and had called the trained September 11 suicide bombers "magnificent."
He settled in Britain in 1986 where he became a leading figure among Islamist circles until the authorities tightened the screws after the 2005 bombings in London. Since then he has been banned from Britain.