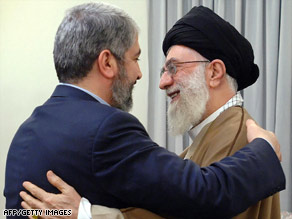 By David Ignatius
The turmoil in Syria already appears to be adjusting the strategic map in the Middle East — possibly eroding the positions of Iran and the radical Palestinian group Hamas.
U.S. officials see signs that Syria's embattled president, Bashar al-Assad, has concluded that to survive the massive protests against his regime, which continued today across the country, he will have to distance himself somewhat from Iran. The protesters have largely been Sunni Muslims who have criticized Assad's alliance with the Shiite Muslim leadership of Iran. That anger grew last week after U.S. intelligence reports revealed that Iran had secretly supplied Assad with tear gas, anti-riot gear and other tools of suppression.
Whatever happens in the anti-Assad protests, Iran is likely to lose some of its easy access to Syria, its key Arab ally. If Assad survives, he will have to establish some distance from Iran to appease Sunni protesters, U.S. officials believe. And if he's toppled, Syria is likely to be ruled by a Sunni-dominated regime that will be more hostile to Iran.
Some Arab analysts caution, however, that the Syrian regime's ties to Iran are so deep that Assad's room to maneuver may be limited. Even if he personally favored some greater distance from Tehran, other members of his family and the other ruling Alawite clans might block any major change. Indeed, one Saudi source late Thursday described an unsubstantiated rumor that more hard-line members of Assad's family might be considering a coup against him. U.S. officials couldn't confirm that rumor.
Similar problems have beset Hamas, which has its roots in Gaza but is officially based in Damascus. The radical Palestinian group has been pushed toward its merger this week with the more moderate Fatah organization because of strains in its relationship with Assad, according to an Arab source whose information was confirmed by a senior U.S. government official. Newly vulnerable in its Syrian base, Hamas made several important concessions to Fatah in the unity deal.
At the heart of the Hamas-Syria tension is the fact that Hamas receives strong support from the Muslim Brotherhood — which is also a leading voice in the movement to topple Assad's secular government. One source said that Hamas leader Khaled Meshal offered to broker a deal between Assad and the Hamas's friends in the Muslim Brotherhood — infuriating Assad. Meshal is said to have realized that his base in Damascus was no longer secure under Assad, and he authorized concessions to Hamas's Palestinian rival, Fatah, which rules the West Bank and is headed by Palestinian Authority President Mahmoud Abbas.
As evidence of Hamas's weakness in the Egyptian-brokered unity negotiations, a U.S. official cited its acceptance of two Fatah demands: First, Hamas reversed its longstanding position against signing a 2009 Egyptian reconciliation text without modifications; and second, it accepted a plan for a government of "independents" not affiliated with the group, which hasn't accepted Israel's right to exist and is officially branded by the United States as a terrorist organization.
Some Obama administration officials believe that despite Israeli worries, a weakened Hamas may provide new opportunities for peace negotiations, but that question isn't yet resolved within the White House. President Obama has delayed a speech on the Middle East that had been planned for next week — in which he might lay out U.S. "parameters" for negotiating a peace deal— to weigh the impact of the Hamas-Fatah accord.