Sarkis : Lebanon new government will be born dead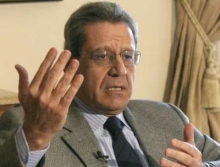 Lebanon's former Tourism Minister Joe Sarkis said the government that is being formed by March 8 alliance will be born dead and powerless because the forces that are trying to form it do not bode well.
Commenting on the process of government formation the former minister said the forces that make up the March 8 alliance are not capable of governing and are only used to sharing the spoils and for this reason he said they have not been able to agree on a cabinet because each one has his own agenda which is far from the project of state building .
Sarkis added that the Lebanese are going to discover after the government is formed that it will not be up to their level of aspirations and for reason this government will mean nothing to the Lebanese.
Sarkis said the new government will try to weaken the institutions, undermine the presidency, will back the illegal construction on public , institutional and and private properties , undermine the sovereignty of the country and its relations with the world community
Commenting on Free Patriotic Movement and its leader MP Michel Aoun he said:
This party is not fighting for the rights of the Christians as it has been claiming . He said all this party is doing is fighting a political battle for its own interests and described the party's encroachment on the powers of the president as extremely dangerous and rejected by the majority of the Lebanese people.
Sarkis who is a key member of the Lebanese forces said :" We as LF consider the powers of the president as a very serious issue and a red line ' he added: 'We stand today by President Suleiman and urge him to adhere to the position taken by him and ask him not to give up on his position for whatever reasons."
Aoun has reportedly been undermining the president by refusing to allow him to have any share in the cabinet being formed by PM Designate Nagib Mikati.
Aoun has reportedly been also insisting on acquiring the ministry of interior which is currently being held by Minister Ziad Baroud, a key ally of Suleiman.