3 officers injured over illegal construction in Lebanon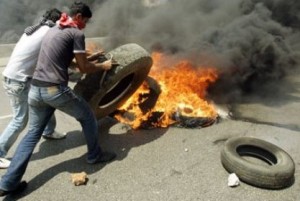 Three Lebanese internal security officers were wounded when protesters young men and women believed to be members of Hezbollah and Amal hurled stones at them during the implementation of the demolition of the illegally built buildings inside the fence of the Beirut International airport .
The buildings reportedly obstructed the visibility of the Airport control tower during landings and take off.
The 3 wounded officers were transferred to a nearby hospital for treatment and were identified as Joseph al Naddaf ( face injury) , Suleiman Zein Eddine ( hand injury) and Nabil Ouidat ( shoulder injury ) .
In a related development another group of young men and women through in Hezbollah and Amal stronghold of Ouzai hurled stones and burned tires to protest against the actions by Internal security forces
According to reports all the whole of Ouzai neighborhood ( near the airport) , south of the capital was illegally built on public and private property .
Thousands of buildings were reportedly constructed illegally in south Lebanon