Ahmadinejad absence fuels talks of Iran political crisis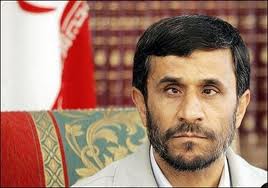 President Mahmoud Ahmadinejad's absence from a cabinet meeting Wednesday, his second no-show this week, and his absence from the public light since April 22, have fuelled talks of a serious political crisis in Iran.
The hardline president disappeared from public soon after his failed attempt to get Intelligence Minister Heydar Moslehi to resign, websites and blogs have said.
Moslehi submitted his resignation around a fortnight ago, but it was rejected by Iran's supreme leader, Ayatollah Ali Khamenei, despite Ahmadinejad accepting it.
Ahmadinejad was also absent Tuesday from a meeting of the Supreme Council of the Cultural Revolution, the body that regulates educational and cultural issues, and which he chairs.
Such absence is quite unusual for Ahmadinejad, who is omnipresent in the media and is known for his near daily public appearances and fiery speeches.
State media have not offered any explanation on his absence.
But several websites and blogs close to conservative factions suggested that Ahmadinejad, by adopting the policy of an empty chair, has initiated a trial of strength to defend his prerogatives, which he believes are threatened by his ultra-conservative opponents.
Bornanews, which is linked to state news agency IRNA, reported on its website that Ahmadinejad told a visitor that there was a "conspiracy" to curtail his powers.
The reformist opposition website Rahesabz reported that the president had expressed to another visitor his frustration at not being able to dismiss Moslehi.
None of these reports were confirmed by a direct source, and several media close to the hardliners have denied the existence of any differences at the top of the power structure and condemned the talks as "propaganda by enemies" of Iran.
However, conservative website Khabaronline said Wednesday that around 50 lawmakers signed a petition demanding the president to appear before parliament and explain himself.
Bornanews said Ahmadinejad has decided to "settle the problem directly with the supreme leader.
The crisis seems to have been aggravated by accusations from ultra-conservatives that Ahmadinejad's close aide and chief of staff, Esfandiar Rahim Mashaie, was the one who planned Moslehi's ouster.
Ahmadinejad's opponents have rallied against Mashaie, who has been defended tooth and nail by the president, accusing him of leading a "current of deviation" aimed at destroying the Islamic regime.
The weekly newspaper of the Iran's elite Revolutionary Guards accused Mashaie and his "dangerous group" of trying to take control of the intelligence ministry ahead of the parliamentary and presidential elections.
The legislative election is scheduled for next March, while the presidential poll will be held in 2013.
Meanwhile, a journalist working with Iran's leading hardline daily Kayhan reminded Ahmadinejad in his blog Wednesday about the fate of former president Abolhassan Banisadr.
Banisadr was dismissed by the parliament in 1981 after he opposed Iran's revolutionary leader Ayatollah Ruhollah Khomeini. Daily nation