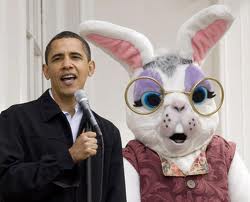 He has a $14.3 trillion national debt, an 8.8% unemployment rate, two wars and a re-election campaign to worry about. Even so, President Obama is making time Monday to have 30,000 people over for eggs.
Not just any eggs: Easter eggs.
And not just any people: More people than on any other day of the year. People from every state. Famous people like singer Colbie Caillat and TV star Kelly Ripa, the Harlem Globetrotters and Sesame Street's Elmo.
The White House Easter Egg Roll has been a fixture since 1878. Its evolution into a star-studded, 11-hour eggs-travaganza featuring live music, dancing, sports and even yoga has been building over the past 30 years.
During George W. Bush's last years as president, he hosted Miley Cyrus and the Jonas Brothers. Last year, Justin Bieber showed up. This year, the hit singer is Caillat.
Since Barack and Michelle Obama entered the White House, the event has taken on a certain athleticism. The traditional egg-rolling and egg-hunting will be accompanied by basketball and tennis training, football and baseball obstacle courses, a yoga garden and farmer's market. Even the theme carries an admonition from the first lady's Let's Move initiative: "Get Up and Go!"
"It's natural when you're in there to want to make it better every year," says Debra Dunn, who ran the White House visitors' office in the Bush administration from 1989-93. "Do you think people would want to line up and do this if they were only going to roll an egg?"
Well, perhaps. Anita McBride, who was first lady Laura Bush's chief of staff, says that because the White House can put on quite a show, it should. In 2007, it was her then-9-year-old son who suggested inviting the Jonas Brothers. "People have a certain expectation," McBride says. "At the White House, we always should be showcasing the best America has to offer."
This year's event will be the longest yet — starting at 7:30 a.m. and ending at 6:20 p.m. in order to accommodate five groups of 6,000 guests for two hours apiece. Nothing that happens at the White House the rest of the year — not even state visits by foreign leaders — are as crowded.
"It was one of the most coveted things I got to invite people to," says Sally McDonough, who was Laura Bush's press secretary. "People walk out of there happy, happy, happy."
Why all the fuss?
• Tradition. The event dates to Rutherford B. Hayes' administration, when it was moved to the South Lawn from the grounds of the U.S. Capitol. Lawmakers there had banished it because of the mess it left and a tight landscaping budget.
• Public diplomacy. Over the years, its popularity has grown, creating a backlog of disappointed children who didn't make the cut. This year, 205,739 tickets were requested through an online lottery.
• Keeping up with the Joneses. Each administration feels a need to put its imprimatur on the event. First lady Pat Nixon unveiled the first Easter Bunny. Rosalynn Carter brought in farm animals. Nancy Reagan added Hollywood-style clowns and characters.
Elisabeth Meinecke, deputy managing editor of Townhall.com, a conservative news and opinion website, says the Obamas may be at risk of overdoing it during tough economic times. "I'm not against kids being healthy and working out, but it's very agenda-driven," Meinecke says, pointing to the logo — a bunny working out. "I think they're getting a little carried away."
Although the White House would not cite the cost for the event, those involved in past productions say the costs were underwritten by corporate donors. In some years, they could get a photo with the president and first lady. Most celebrities performed for free. Taxpayers do pick up the tab for staffing, which includes the National Park Service and Secret Service.
It's also one of the rare events that doesn't have political overtones. Even the souvenir wooden eggs given to participants with the Obamas' signatures come in politically neutral purple, green, yellow and pink — no red or blue.
"It's a chance for kids in Washington to have the opportunity to actually walk in the White House gates and feel a sense of the history," says Sheila Tate, first lady Nancy Reagan's press secretary. She adds, "I don't know what the White House gardeners think about it." USA today