At least 20 killed by Syrian troops in Daraa
At least 20 people were reported killed when hundreds of Syrian troops backed by tanks entered the southern Syrian city of Daraa early Monday.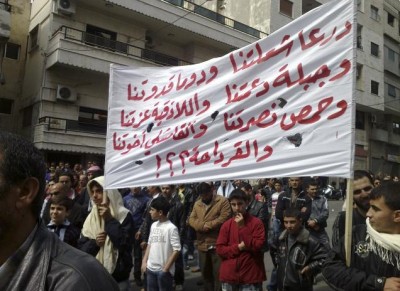 Tanks fired at houses and people, and dozens of bodies were seen on the streets, activists said on the internet.
They added that security forces backed by armoured vehicles had entered the town overnight in an apparent crackdown against the ongoing anti-government protests in Daraa which began on March 15.
There was no way to obtain independent confirmation of the casualty figures. Syrian authorities have banned international and Arab journalists from entering Syria, with the government blaming the unrest on what it calls conspirators.
Telephone lines and electricity were reportedly cut off from Daraa, but some using Jordanian mobile phones could be reached.
"I can tell you 3,000 troops entered the city and they are currently raiding homes in Daraa," a Syrian taxi driver who lives in Daraa told the DPA by phone.
"There are many casualties and ambulances are unable to move due to the heavy shooting," he said.
"These are the forces of Maher al-Assad (brother of Syrian president Bashar al Assad). They are shooting at anything that moves," he added.
Meanwhile, Syrian writers issued on Monday a declaration denouncing the crackdown.
The declaration was signed by 102 writers and journalists, both in Syria and in exile, representing all the country's main sects.
It called on Syrian intellectuals "who have not broken the barrier of fear to make a clear stance and condemn the violent, oppressive practices of the Syrian regime against the protesters." Human rights groups said security forces have killed around 400 people since the unrest began last month. But the highest numbers were killed in the past three days.
On Sunday, at least nine people were killed in coastal city of Jableh when security forces fired live ammunition to disperse mourners attending the funerals of some of those who died in an earlier government crackdown on protesters.
Human Rights Watch called on the United Nations Sunday to set up an international inquiry into the fatal shootings by Syria's security forces of peaceful protesters and impose sanctions on officials who bear responsibility for the use of lethal force.
"After Friday's carnage, it is no longer enough to condemn the violence," said Joe Stork, deputy Middle East director at Human Rights Watch.
At least 112 people were killed in Friday's violent crackdown on protesters by the security forces in various towns across Syria.
"Faced with the Syrian authorities shoot-to-kill strategy, the international community needs to impose sanctions on those ordering the shooting of protesters," Mr. Stork added.