Yemen leader Saleh agrees to step down under Gulf plan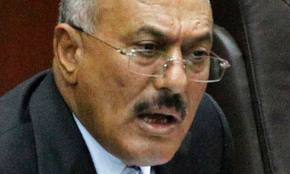 President Ali Abdullah Saleh of Yemen has agreed to step down under a 30-day transition plan aimed at ending violent unrest over his 32-year rule.
Officials in the capital Sanaa confirmed the government had accepted the plan drawn up by Gulf Arab states.
Mr Saleh will hand power to his vice-president one month after an agreement is signed with the opposition, in return for immunity from prosecution.
At least 120 people have died during two months of protests.
Opposition leader Yassin Noman was quoted by Reuters news agency as saying he welcomed news of the hand-over but would not take part in a proposed national unity government.
Opposition politicians have been insisting they will not accept immunity from prosecution for Mr Saleh and his family.
If Mr Saleh steps down as expected, he will join Tunisia's Zine al-Abidine Ben Ali and Egypt's Hosni Mubarak as the latest Arab leader to lose power because of a popular revolt this year.
The Gulf plan
Under terms of the deal, Saleh will hand over his power to his vice president, resign in thirty days and establish presidential elections two months later, according to a Yemeni official.
Specifically, the GCC proposed "the formation of a national unity government with 50 per cent held by the ruling party, 40 per cent by the opposition and 10 per cent by other parties," according to Agence France Presse.
The proposal also calls for an immediate cessation of anti-government protests by the opposition.
The arrangement would also provide immunity from prosecution for Saleh and his family.
Read more: http://www.ibtimes.com/articles/137049/20110421/yemen-saleh-gcc.htm#ixzz1KNOviK3u