U.S. urges Iraq to decide soon on troop presence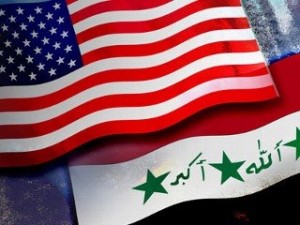 The top U.S. military officer said Friday that Iraq must act very soon if it wants American forces to stay longer in the country, as discussions intensify over whether to keep any troops past this year.
Adm. Mike Mullen told reporters in Baghdad that time is running out for negotiations over an extended American troop presence. He emphasized the U.S. position that it would consider any request by the Iraqi government to keep American forces in the country past their expected Dec. 31 departure date but said that so far Baghdad has not asked the U.S. to do so.
"Should the Iraqi government desire to discuss the potential for some U.S. troops to stay, I am certain my government will welcome that dialogue. But it needs to start soon, very soon," Mullen said.
When pressed on how much time the Iraqi government had, Mullen said it was a matter of weeks.
Under an agreement between the two nations, all of the approximately 47,000 American troops are to leave by the end of this year.
Mullen sought to deflect any question that the U.S. is pushing for a troop extension, saying that there has been a lot of "interest and some confusion" on the issue.
"There are no plans – nor has there been any requests from the Iraqi government – for any residual U.S. force presence here after this December," he said.
Mullen is the latest in a line of American officials, including U.S. Secretary of Defense Robert Gates, Speaker of the House John Boehner and Chief of Staff of the Army Gen. Martin Dempsey, who have come to Iraq, many sounding the same warning that time is running out for Iraq to ask the Americans to stay longer.
White House press secretary Jay Carney stressed the United States has met every deadline in the Iraq withdrawal process. But he told reporters aboard Air Force One as President Barack Obama flew back to Washington from a political trip to California: "We have a stake in Iraq's future. We want Iraq to succeed."
Privately, many Iraqi officials say they are worried about what will happen after the U.S. withdraws but publicly they maintain that all American forces will leave as scheduled.
Having American forces stay past 2011 would be politically risky for Obama, who campaigned on a platform of ending the war. But it would be even more difficult for Iraqi Prime Minister Nouri al-Maliki, whose closest allies in government are the virulently anti-American followers of Muqtada al-Sadr. The Shiite cleric, who spends much of his time in neighboring Iran, has threatened violence if American troops stay in Iraq.
But military officials say Iraq still needs assistance.
Mullen praised the Iraqi forces, saying they had made "incredible progress," but said there were certain areas such as "air defense, intelligence" and logistics that are potential "vulnerabilities" for the Iraqi forces in the future.
During a meeting Thursday, al-Maliki told Mullen that Iraqi forces are able to maintain security in their own country,
For Iraqis, the question of Americans staying past 2011 has been a sore issue.
About 5,000 protesters defied a ban on Friday rallies and gathered in the northern city of Mosul, 225 miles (360 kilometers) northwest of Baghdad, to demand there be no extensions to the U.S. troop presence. Hundreds also converged from nearby Sunni provinces to join a sit-in at al-Ahrar square, which has been going on since April 9, against American troops.
And in Baghdad, dozens of Iraqis protested in Tahrir Square demanding the complete withdrawal of the American forces from Iraq and calling for an end to rampant corruption and for the release of prisoners.