Two syrian MPs resign over Good Friday Massacre
Syrian MP Nasser al-Hariri of Daraa announced his resignation from his post to al-Jazeera: "Since I cannot protect the sons of my city, I announce my resignation from parliament," he said
Another Syrian MP Khalil al-Rifai also announced his resignation to al-Jazeera in protest over the massacre on Good Friday in Syria.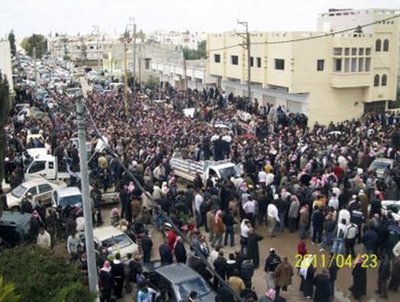 Witnesses say Syrian security forces and snipers have opened fire on mourners attending mass funerals on Saturday, killing at least eight people.
Rights groups and witnesses say Saturday's shootings took place in the Damascus suburb of Douma and southern town of Izraa. Thousands of people had gathered at the locations to pay their last respects to some of the 75 people reported killed on Friday after witnesses said security forces fired shots and tear gas at anti-government demonstrators.