OTV: Syria issues arrest warrant against MP Sakr, update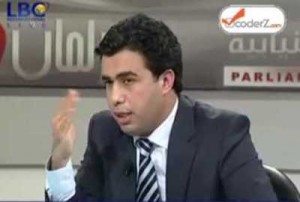 OTV reported that the Syrian judiciary issued an arrest warrant against Future Movement MP Okab Sakr accusing him of involvement in the Syrian unrest and has circulated his name to all the Lebanese Syrian border crossings.
The Syrian authorities did not notify their Lebanese counterparts about this issue , the station added.
This comes after Syria Nobles website on Saturday said that Syrian state television reported that MP Sakr was arrested in Banias ."
Future Movement media coordinator Ayman Jezzini denied that MP Okab Sakr was arrested in Banias in Syria, adding that he will hold a press conference to deny the report.
OTV television station is owned by MP Michel Aoun a key ally of the Iranian and Syrian backed Hezbollah militant group.
Syrian President Bashar al-Assad has been facing the biggest challenge to his rule. Popular protests demanding greater freedoms and an end to corruption erupted over a month ago in southern Syria and spread to the capital Damascus and most cities in Syria. Last Friday witnessed the largest ever protest and there are reports pointing to more protests this coming Friday since the Christians were urged to participate on Great Friday.
Just like the Egyptian, Tunisian and Libyan regimes the Syrian regime has been blaming foreigners for the protests. Last week the Syrian regime accused a Lebanese Future movement legislator of funding and arming the opposition to fuel a wave of protests in the country, a charge that was repeatedly denied by the party and MP Jamal al Jarrah.
This is a  Breaking News , more to   follow on this issue after Sakr appears on Future TV Saturday evening
Update: MP Sakr appeared in the Future TV Studio in Beirut . He told the Syrian authorities enough lies. He said the news about his arrest is a joke and said the Syrian media has reached the lowest level in reporting.
More on Sakr's appearance on Future TV to follow