Iran's supreme leader rebuffs Ahmadinejad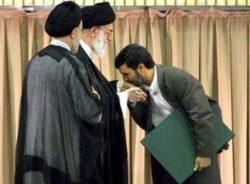 Iranian President Mahmoud Ahmadinejad received a public rebuff Wednesday when Ayatollah Ali Khamenei, Iran's supreme leader, confirmed that the intelligence minister, whom Ahmadinejad had dismissed Sunday, is to keep his job.
In a letter carried by all Iranian news agencies, Khamenei told Intelligence Minister Heydar Moslehi and his officials to "continue their work," effectively ending three days of uncertainty over Moslehi's fate and the reasons for his apparently forced resignation.
It is rare for Khamenei, who generally supports the government's policies, to step in and modify the president's decisions. In a keynote speech marking the beginning of the Iranian new year in March, Iran's supreme leader publicly praised the government for implementing bold economic changes.
The controversy over the key ministry post has flared against a backdrop of public tension about what high-ranked officials described as the growing influence of Ahmadinejad's closest aide, Esfandiar Rahim Mashaei, in the country's affairs. Semiofficial news media have reported that the 52-year-old aide played a central role in Moslehi's dismissal.
On Tuesday, the Sharq newspaper quoted a government Web site as saying that Mashaei had accused the Intelligence Ministry and others last week of not "having exact news and analysis" about events unfolding in the region.
"If we miss the connection of all these events with the macro plan of imperialists, this will cause us to make mistakes," Mashaei told the Dowlat news Web site.
Sharq, quoting other Web sites, wrote that after Moslehi tried Saturday to fire a senior intelligence official who is apparently close to Mashaei, the aide persuaded Ahmadinejad to remove the minister. Khamenei's refusal to accept the move suggests that he could be trying to limit Mashaei's influence, analysts say.
Mashaei, a former Intelligence Ministry official, made a controversial trip in December to Jordan, a country with which Iran has frosty relations because of its ties with Israel. Recently, Ahmadinejad has warned neighbors in the region that the United States and Israel are planning to divide Jordan to establish a Palestinian state there.
Two weeks ago, for reasons that remain unclear, Ahmadinejad abruptly replaced Mashaei, who holds several government positions, as the head of the president's office. Mashaei's promotion of Iranian culture over Islamic culture has angered hard-line Shiite clerics, who say they would prefer to see him leave. But analysts say the aide still wields considerable influence on the president, whose son is married to Mashaei's daughter.
Official media have quoted government supporters as saying that Ahmadinejad accepts Khamenei's decision on retaining the intelligence minister. But as of late Wednesday, the president, who is traveling in western Iran this week, had not issued a statement confirming that Moslehi would stay on. WP