MTV: Lebanon may have a cabinet next week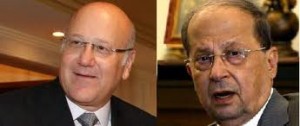 PM Designate Nagib Mikati sources told MTV on Tuesday that the dispute over the interior ministry portfolio is about to be resolved and the new cabinet will likely see the light next week.
Mikati was appointed in January as the PM designate with the backing of the Hezbollah March 8 alliance and MPs Walid Jumblatt and Mohammad Safadi . March 14 leaders have repeatedly said that intimidation from Hezbollah's weapons helped secure the parliamentary majority for Mikati's nomination.
Free Patriotic Movement leader Michel Aoun was reportedly insisting on 12 portfolios out of the 30 member cabinet that Mikati is trying to form. Aoun is reportedly also insisting on being allocated the ministry of Interior.