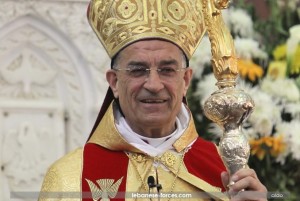 Bkirki sources revealed on Sunday that Maronite Patriarch Bechara Boutros al-Rai is determined to gather all the Christian Maronite leaders under one roof on Tuesday even though he knows that achieving reconciliation between all of them is along shot . The maximum he can aspire to is to isolate the Christian unity from political differences .
The sources are speculating over how successful the gathering will be and whether there will be handshakes between Lebanese Forces leader Samir Geagea , FPM leader MP Michel Aoun and Marada Movement leader MP Suleiman Franjiyeh
The meeting will reportedly address matters related to demographic problems, selling land, Palestinian naturalization and other issues, the source added.
Commenting on the Bkirki gathering FPM MP Ibrahim Kanaan said on Sunday that the new Patriarch is "striving seriously to demonstrate the common ground among Christians".
"Reconciliation between the Lebanese Forces and the FPM over the past ( civil war period) has already taken place , whether by Aoun's visit to Geagea in the place of his detention or by Geagea's visit to Aoun's home in Rabieh." Kanaan told Voice of Lebanon