One ISF member injured by protesters in south Lebanon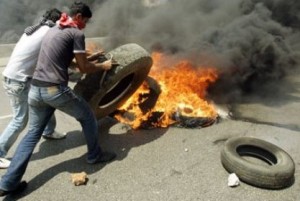 MTV reported that a member of Lebanon's Internal Security Forces was wounded when his patrol was pelted with stones in Tyre as it was trying to stop a construction violation. Protesters also blocked the Tyre highway with burning tires.
This comes after the residents of Ouzai district south of Beirut and southern town of Tayr Debba blocked the roads and set tires on fire Wednesday April 13 to protest against Internal Security Forces' actions to prevent them from illegal construction on Lebanon's public properties.
As Safir daily reported on Wednesday that there were more than 500 illegal construction violations in southern Lebanon.
Around 1,000 residential units were built on thousands of acres of public property, according to As Safir.
Ouzai district , a Hezbollah and Amal stronghold was all constructed on public properties according to local reports.