Protest erupts in Syria's Druze heartland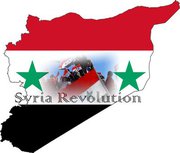 About 300 people marched and chanted "freedom, freedom" in the city of Sweida in Syria's Druze heartland on Thursday, a witness said.
Security police and irregular loyalists of President Bashar al-Assad used sticks to disperse the protesters, the witness told Reuters.
The protest was the first reported in the Druze region of Syria since unprecedented demonstrations against Assad's authoritarian rule started in the city of Deraa almost one month ago and spread elsewhere.
The demonstrators also chanted "We sacrifice our blood and our soul for you martyrs," a reference to dozens of people killed by security forces in Deraa and other Syrian cities.
They had assembled at a square named after Sultan Pasha al-Atrash a prominent Arab Druze leader, Syrian nationalist and Commander General of the Syrian Revolution (1925–1927) . He fought against the Ottomans, French, and even against the Syrian government in its days of dictatorship. One of the most influential figures in Syrian and Druze history, he played a major role in deciding the destiny of Jabal al-Druze ( The Druze stronghold in Syria also known as Jabal Arab ) and of Syria in general.
On March 28 The Syrian Revolution 2011 Facebook group, a key player in organizing the protests appealed to the Druze of Syria to join the protests against the Syrian Regime".
"Oh sons of Sultan al Atrash the time has come for a revolution against the Syrian regime" the group stated on its web site
MSNBC, Ya Libnan