Today marks the 36 anniversary of Lebanon civil war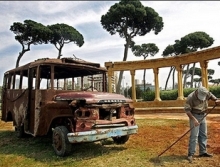 The war should stand as a lesson for us to overcome our current disputes. The political leaders should take bold steps to bridge the gap between the Lebanese, " Lebanon's PM-designate Nagib Mikati was quoted as saying on the 36th anniversary of the Lebanese civil war.
March 14 General Secretariat said in a statement after its weekly meeting:"The danger of the civil war still stands given the possession of arms outside the state authority."
This is in reference to the non-state arms of Hezbollah.
Mikati has been trying to form a government in Lebanon but FPM leader Michel Aoun's unreasonable demands for a disproportionate share and his insistence on having the interior ministry have reportedly prevented the PM designate from forming the cabinet until now.
The The Iranian and Syrian -backed Hezbollah brought down PM Saad Hariri's government on January 12 over the Special Tribunal for Lebanon's (STL) imminent indictment which is widely expected to implicate Hezbollah members in the assassination of former PM Rafik Hariri in 2005
Mikati was appointed in January as the PM designate with the backing of the Hezbollah March 8 alliance and MPs Walid Jumblatt and Mohammad Safadi . March 14 leaders have repeatedly said that intimidation from Hezbollah's weapons helped secure the parliamentary majority for Mikati's nomination.
Jumblatt and his PSP parliament members reportedly switched allegiance to Hezbollah's PM candidate, following threats by Hezbollah.
Jumblatt, Mikati and Safadi were all elected on March 14 electoral tickets during the 2009 parliamentary elections.
Update:
Amnesty International issued a statement on Wednesday announcing an upcoming report that will shed the light on the thousands of people who went missing during the 15-year Lebanese Civil War that started in 1975.
"The Lebanese authorities must act to investigate the fate of the thousands of people still missing since its brutal civil war, which began 36 years ago this week," Amnesty International said in the report, which will be published on Thursday.
"The report entitled Never Forgotten: Lebanon's Missing People highlights how the disappearances have left affected families in a permanent state of limbo, and those responsible unaccountable," the statement added.