Hezbollah chief, Aoun to meet over cabinet formation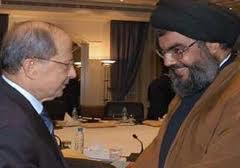 Central News Agency quoted political sources as saying that a meeting between Hezbollah chief Sayyed Hassan Nasrallah and Free patriotic Movement leader MP Aoun will take place Wednesday night in order to discuss the government formation.
March 14 MP Mohammad Qabbani did not rule out on Wednesday that Lebanese Prime Minister-designate Najib Mikati may step down because it is "impossible" for him to comply with the Dar al-Fatwa statement and March 8's demands at the same time.
Qabbani told the Voice of Lebanon radio station: " We all hope that a cabinet is formed as soon as possible but Aoun's demands are completely unrealistic , because he is insisting on a blocking third in the cabinet in order to dictate the affairs of the government ".
Hezbollah is reportedly also creating obstacles for Mikati for insisting on including in the cabinet Faisal Karami , son of former PM Omar karami as the representative of the Sunnis.
Aoun is also reportedly insisting on being allocated the ministry of Interior , even though it was agreed that this post will go to the centrist bloc of President Suleiman, Mikati and MP Walid Jumblatt