Ivory Coast's Gbagbo Is Captured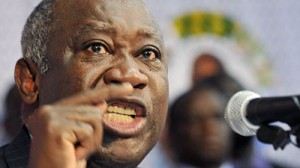 Forces loyal to Ivory Coast's elected president Alassane Ouattara have seized strongman Laurent Gbagbo from his residence, bringing to a head a protracted conflict between two presidential rivals that had tilted the world's largest cocoa producer toward civil war.
A spokeswoman for Mr. Ouattara said Monday that Mr. Gbagbo was captured during a flurry of fighting earlier in the day. "There [was] heavy fighting involving French soldiers, the United Nations and our forces against Mr. Gbagbo's forces," spokeswoman Sogona Bamba-Arnault said from Paris. "Once all heavy weapons were destroyed, Mr. Gbagbo was there and we arrested him."
An aide to Mr. Gbagbo said the incumbent ruler was first arrested by French special forces, and only later handed to forces loyal to Mr. Ouattara.
In Paris, French officials had no immediate comment.
Ms. Bamba-Arnault, the president-elect's spokeswoman, said Mr. Gbagbo was taken to the Golf Hotel, where Mr. Ouattara has set up his office. WSJ