Fatfat: Nasrallah defends Iran as if the Shiites in Lebanon are Iranian diaspora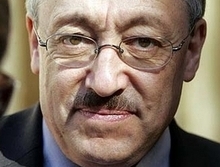 March 14 MP Ahmad Fatfat defended caretaker PM Saad Hariri's position regarding Iran and attacked the position of Hezbollah chief Sayed Hassan Nasrallah.
He said that Nasrallah defends Iran as if the Shiites in Lebanon are an Iranian diaspora.
Fatfat stressed that Hariri was right in criticizing Iran's interference in the internal affairs of Lebanon and the Arab countries and specially Bahrain and Saudi Arabia. Fatat asked : "How would Iran and Hezbollah feel if Saudi Arabia and Bahrain tried to interfere in Iran by siding with Arab community against the rulers in Tehran?"
This is in reference to the Ahwazi ( Ahvazi) Arabs who are the predominant majority in the Khuzestan province of southwestern Iran ( also referred to as Arabstan) with cities such as Ahwaz , Abadan and Khoramshahr.
Khuuzestan produces about 80 % of Iran's oil but you couldn't tell this from the way the Iranian regime treats the Ahwazi people. Ahwazi Arabs suffer a great deal of discrimination. The people in Ahwaz are known to be proud Arabs but the Arab countries always ignored their calls for help in order to appease the rulers of Tehran.
Hezbollah and its Iranian backers came under attack by Hariri during the past couple of days
Hariri on Thursday slammed what he called Iran's "flagrant intervention" in Lebanese and Arab affairs, saying his country will not be an Iranian protectorate.
Iranian Foreign Ministry spokesman Ramin Mehmanparast responded to Hariri's attacks by saying: "Hariri's position on Iran is deceptive", adding that" it is not in Lebanon's interest and threatens stability of the region".
Hariri responded to the criticism by Iran's foreign ministry by saying:
"Iran should stop interfering in the affairs of the Arab states and sowing discord among their peoples. It should also respect the principles of good neighborliness".
Hariri accused Iran of meddling in Lebanon, Bahrain and Kuwait and added this is "not acceptable anymore."
On Wednesday Hariri also slammed Hezbollah and its arms :
"Our project is to end the mandate of illegitimate arms, including Hezbollah's weapons, in the political life in the country ."
Hariri added that " non-state arms are aimed at bullying the State."
" It is unacceptable to violate the constitution and threaten the Lebanese under the pretext of resistance." Hariri stressed
Addressing Hariri remarks about Iran , Nasrallah said :
"I would like to address Hariri's comments on Iranian policy in the region. We are proud that we are allied with Iran and Syria. We have nothing to hide. And when a state that has stood with Lebanon is harmed, we cannot remain silent.
– We cannot remain silent, especially when a premier makes comments [against] Iran and makes it out to be the root of all problems in Arab world .
– If it were not for Iran's support [of Lebanon] following the 2006 July War, a lot of houses would not have been rebuilt.
– This is not how Iran should be treated. Even if someone is upset with us because we collapsed his government, he should leave the Iranians alone.