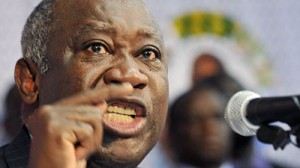 HOPES for an early end to Côte d'Ivoire's civil war appeared to be dashed late on Tuesday night when Laurent Gbagbo declared on television that he has no intention of stepping down as president, despite the defection of most of his troops and the destruction of his artillery by UN and French forces. His announcement contradicted a claim by his official spokesman a few hours earlier that he was negotiating the terms of his departure, with France, the former colonial power, acting as an intermediary. This morning, however, the French army commander in the city said he expected it would be only "a matter of hours" before Mr Gbagbo, who has ruled the West African country with an iron fist for the past decade, gives himself up.
The fighting that has rocked Abidjan, the main city, over the past few days had stopped while the terms of what is hoped will be a permanent cease-fire are being negotiated. Mr Gbagbo is believed to be holed up in a bunker at the presidential palace in the city where he and his family and close aides have been living since losing the presidential election to Alassane Ouattara, a former deputy director of the IMF, last November. Despite repeated international pleas that he step down, Mr Gbagbo has refused to budge, causing the former rebel forces now backing Mr Ouattara to take up their arms again in a bid to oust him by force. Hundreds, perhaps thousands, of lives have already been lost. On Wednesday morning fighting broke out again as Mr Ouattara's troops launched a fierce attack on Mr Gbagbo's refuge.
France and the UN have come under criticism in some quarters for the key role their troops, equipped with gunship helicopters, played in the "final assault" on the presidential palace on Monday night. Some have even accused the French of staging a coup d'etat. But Ban Ki-moon, the UN secretary-general, has defended the direct involvement of UN and French troops, claiming it was to protect civilians. Pro-Gbagbo forces had "intensified and escalated" the violence, he said, by using mortars, rocket-propelled grenades and machine-guns against ordinary Ivorians. They had also attacked the UN's headquarters in Abidjan, he said, wounding four peacekeepers.
Speaking on behalf of the Elders, a group of former world leaders brought together by Nelson Mandela in 2007, Archbishop Desmond Tutu, the group's chairman and former head of South Africa's Peace and Reconciliation Commission, appealed to Côte d'Ivoire's incoming president to commit himself publicly to a similar process of accountability for atrocities he claimed had been committed by both sides. Mr Ouattara's actions and words over the coming days would be critical to the country's future, Mr Tutu said: "The people need reconciliation, not retaliation."