The Higher Defense Council will convene tomorrow under the chairmanship of President Michel Suleiman to discuss measures aimed at protecting Lebanese expatriates in Abidjan, according to a statement by the presidential office.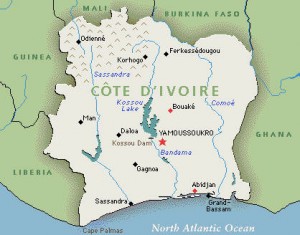 This comes after LBC television reported on Monday that a Lebanese expatriate from al-Basma family was killed in Abidjan, capital of the Ivory Coast ( Côte d'Ivoire) and his companion Mustapha Haidar and seven others were injured, one critically, in random gunfire shots.
Caretaker Prime Minister Saad Hariri on Monday called Jordanian King Abdullah II to request the help of Jordanian troops deployed as part of the United Nations Operation in the Ivory Coast (UNOCI) to help the Lebanese expatriates in the country.
The Lebanese expatriate in Côte d'Ivoire reportedly came under threat after Lebanon's ambassador meddled in the internal affairs of the country by attending the swearing-in ceremony of Laurent Gbagbo, the controversial strongman who has refused to step down despite rival Alassane Ouattara being internationally recognized as having won the country's elections.
It is estimated that tens of thousands of Lebanese expatriates live in the Ivory coast . They are reportedly the largest Lebanese diaspora community in West Africa and the majority emigrated from south Lebanon during the Lebanese civil war.
Update: Helicopters from the U.N. mission in Ivory Coast opened fire on the residence of Laurent Gbagbo and on a pro-Gbagbo military camp in Abidjan.
This came after French president Nicolas Sarkozy authorized French forces in Ivory Coast to participate in the military operations conducted by the U.N. mission against Gbagbo's forces.