US urges Americans to leave Syria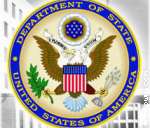 The United States advised its citizens against traveling to Syria and urged those in the country to consider leaving because of the deadly protests in which dozens of people were reportedly killed.
"We urge US citizens to defer non-essential travel to Syria at this time and US citizens currently in Syria should consider leaving," the US State Department said in a statement.
The department warned US citizens of "the potential for ongoing political and civil unrest" in Syria and specifically cautioned them against travel to the to the coastal city of Latakia as well as the southern city of Daraa and the surrounding towns and villages."
The travel advisory added :"Demonstrations in those areas have been violently suppressed by Syrian security forces and there are reports of curtailed telecommunications, ongoing disturbances and live gunfire in various neighbourhoods in the region."
"We remind US citizens that even demonstrations intended to be peaceful can turn confrontational and escalate into violence," the statement said.
President Bashar al-Assad is facing unprecedented pressure on his 11-year rule as protesters demand greater freedoms and test his family's four-decade grip on power.
More than 130 people have been killed in clashes with security forces, mainly in Daraa and Latakia, according to Syrian activists
Three Americans had been arrested in Damascus in recent days and that two of them were still being held according to the statement
The Syria Revolution 2011, which has emerged as the organizing force behind the anti-regime demonstrations demanding "freedom" in Syria, declared yesterday an intifida ( uprising ) and civil disobedience , and urged the citizens to control the cities.
It described Syrian president Bashar al Assad as a clown following his speech
This action comes after Assad failed to deliver on the promises made over reforms by his adviser Butheina Shaaban and instead focused on conspiracy theories and blamed the wave of protests on "conspirators" who reportedly are trying to destroy the country by sowing sectarian strife.