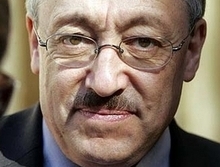 March 14 MP Ahmed Fatfat said Caretaker PM Nagib Mikati fell in the trap of the Hezbollah-led March 8 alliance.
He added: The other party ( March 8) doesn't give a damn about the welfare of the Lebanese citizens…all it it cares about is its share in the new cabinet regardless what happens to the country.
During an interview with Future TV he said " what we are witnessing today with regards to the cabinet formation is a very miserable image.
The dispute between Mikati on one side and the FPM and Hezbollah on the other continues. FPM leader Michel Aoun has reportedly been insisting on a 40 % share in the cabinet which should include the ministry of interior and does not want president Suleiman to have any share. Hezbollah also is demanding that Faisal Karami , son of former PM Omar Karami should represent the Sunnis in the cabinet .
This is not the first time the issue of the trap for Mikati comes up
Democratic Gathering bloc MP Marwan Hamadeh warned Mikati last January following his appointment as PM designate " not to fall in the trap that was set up for him" by the March 8 coalition, in reference to Hezbollah and its allies.
,
Hamadeh who refused to back MP Walid Jumblatt the former leader of the Democratic Gathering in supporting Hezbollah's PM nominee , was one of 4 Democratic Gathering MPS who decided to vote for caretaker PM Saad Hariri during the consultations.
The Iranian and Syrian -backed Hezbollah brought down PM Saad Hariri's government on January 12 over the Special Tribunal for Lebanon's (STL) imminent indictment which is widely expected to implicate Hezbollah members in the assassination of former PM Rafik Hariri in 2005.
Mikati was appointed in January as the PM designate with the backing of the Hezbollah March 8 alliance and MPs Walid Jumblatt and Mohammad Safadi. March 14 leaders have repeatedly said that intimidation from Hezbollah's weapons helped secure the parliamentary majority for Mikati's nomination.
March 14 parties have announced that they will not take part in the cabinet Mikati is currently forming, and Hariri vowed to fight the use of non-state weapons "peacefully and democratically."