Lebanese leaders express loyalty to Assad regime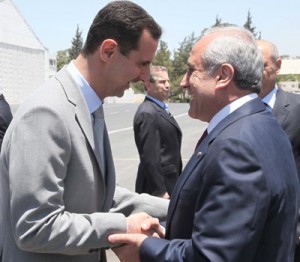 During a phone call on Thursday with Syrian President Bashar al-Assad, Lebanese Prime Minister-designate Najib Mikati reportedly praised the Syrian people's support for his leadership.
The premier also criticized the attempts to create strife, in reference to the recent protests in Syria.
Mikati was reportedly nominated by Assad to form and lead the new cabinet and his call was meant as expression of loyalty to the embattled Syrian president
Suleiman
Similarly President Michel Suleiman voiced his confidence that the Syrian leadership would overcome the instability of recent days that erupted during anti-regime protests. He reportedly stressed on Thursday the importance of Syria's stability on the economic and security situation in both Syria and Lebanon.
Jumblatt
Suleiman met Thursday with MP Walid Jumblatt who in turn also expressed his loyalty to the Syrian regime.
"Syrian President Bashar Assad's speech on Wednesday presented positive possibilities that fundamental change will be introduced in Syria in favor of its people." He said i a statement.
He added : "Should the Baath party decisions be implemented, then Syria's national unity and internal stability will be fortified."
Jumblatt who until 2009 was a fierce critic of the Syrian regime said:
"Syria does not need lectures on nationalism from suspicious western sides that claim that they want reform introduced in Syria when in reality they want to destroy it and drown it in chaos."
Berri
Similarly yesterday speaker Nabih Berri a key ally of the Syrian regime called Assad' speech the "second Corrective Movement," according to a statement issued by Berri's press office.
"The first Corrective Movement led by late President Hafez al-Assad laid the foundations for Syria the invincible… while the second one led by Bashar al-Assad lays the foundation of a modern Syria… the country of civil rights."
Syria's stability is an Arab need, and particularly a Lebanese one, Berri also said.
Protests continue despite some changes
According to analysts Assad failed to deliver on the promises made over reforms and instead focused on conspiracy theories and blamed the wave of protests on "conspirators" whom he accused of trying to destroy the country by sowing sectarian strife.
The protests have already resulted in some changes :
-Assad on Wednesday issued Legislative Decree No. 44 for 30/3/2011, which amends the first article of Legislative Decree No. 40 for 24/3/2011 on increasing monthly salaries and wages.
-Syria is forming a judicial committee to form new legislation and lift Syria's state of emergency, in force since 1963, the Syrian Arab News Agency (SANA) reported Thursday.
"Under a directive by President Bashar al-Assad, a committee of legal experts has been formed to study new laws on national security and counter-terrorism, in order to pave the way for ending the state of emergency," SANA said.
"The committee should finish its work by April 25," it added.
The protesters don't seem to trust Assad'd motive and called for rallies across Syria after weekly Muslim prayers on Friday April 1 , upping the pressure on the Syrian President.
"Our date is Friday, from all houses, all places of worship, every citizen and every free man, to all squares, for a free Syria," said a statement posted Thursday on Facebook group The Syria Revolution 2011.
"We want a civil, free, noble state that is modern and respects our heritage," added the group, which has been a driving force behind protests which erupted on March 15 and have been focused in Daraa, south of the capital, and the Mediterranean port city of Latakia