Conflicting reports about a Mikati Nasrallah meeting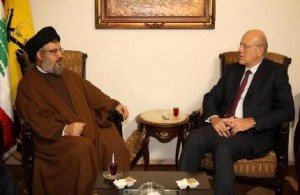 Al-Akhbar newspaper, which is closely assocated with Hezbollah reported on Thursday that Prime Minister-designate Najib Mikati and Hezbollah Secretary General Sayyed Hassan Nasrallah met on Tuesday in an undisclosed location to discuss the obstacles facing the formation of the new cabinet.
The paper said that this was the second meeting between the two officials since Mikati's nomination on January 25, as PM designate
But New TV reported on Thursday that Hezbollah's media relations office neither would confirm nor deny that a meeting took place between the two
Mikati's sources also denied that a meeting took place recently between the two saying the two men held talks on February 24.
According to al-Akhbar Nasrallah reiterated to Mikati that he should abide by the demands of Free Patriotic Movement leader Michel Aoun and the representation of the Sunni opposition by former PM Omar Karami's son, Faisal.
Also according to al-Akhbar, Mikati rejected to grant Aoun a disproportionate share in the cabinet and was not willing to include Karami in his government.
Mikati was appointed last January as the PM designate with the backing of the Hezbollah-led March 8 alliance and MPs Walid Jumblatt and Mohammad Safadi . March 14 leaders have repeatedly said that intimidation from Hezbollah's weapons helped secure the parliamentary majority for Mikati's nomination.
According to observers , up until now Hezbollah has been hiding behind FPM leader Michel Aoun in creating obstacles for Mikati , but now it its openly criticizing Mikati, signaling that he may be on his way out.
Hezbollah according to well informed observers never wanted Mikati …it wanted someone it can completely control like former PM Omar Karami , the decision to name Mikati was reportedly made in Syria in consultations with Qatar . Hezbollah along with all the others in its camp were instructed by Syria to back Mikati.