Lebanon: Initial reaction to Assad's speech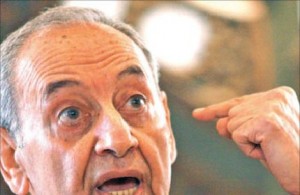 Syrian President Bashar Assad failed to deliver on the promises made on reforms by his adviser Butheina Shaaban and instead blamed the wave of protests on "conspirators" who reportedly are trying to destroy the country by sowing sectarian strife.
This was Assad's first appearance since the protests erupted in this tightly controlled Arab country.
As was expected the allies of the Syrian regime in Lebanon were very supportive of his speech
In Jabal Mohsen neighborhood of Tripoli the predominantly Alawite area of northern Lebanon Several car windows were broken after celebratory gunshots were fired during Assad's speech.
Similarly, LBC reported that celebratory gunshots were heard in Baalbek , a Hezbollah stronghold following Assad's speech.
Lebanese Speaker Nabih Berri , a key ally of the Syrian regime called Assad' speech the "second Corrective Movement," according to a statement issued by Berri's press office.
"The first Corrective Movement led by late President Hafez al-Assad laid the foundations for Syria the invincible… while the second one led by Bashar al-Assad lays the foundation of a modern Syria… the country of civil rights."
Syria's stability is an Arab need, and particularly a Lebanese one, Berri also said.
Update:
March 14
The March 14 General Secretariat condemned on Wednesday attempts by some media outlets to involve Lebanon in Syria's popular opposition movements, which claimed that some independence movements in Lebanon are inciting unrest in the Arab state.
"The independence intifada in Lebanon cannot but support calls for change in the Arab world on the basis of freedom, justice, democracy, and peace for all," it added.
"The popular intifada in the Arab world is an honest expression of justified rights after years of oppression and corruption," it noted.
"The March 14 forces that advocated independence against foreign meddling in Lebanon rejects interfering in the affairs of other countries," it continued.
commenting on Hezbollah arms the statement added:
"The arms are the main obstacle in hindering the state from restoring its authority and a constant cause for involving Lebanon in affairs that don't concern it," the statement remarked.
"The latest example of this was Hezbollah chief Sayyed Hassan Nasrallah's announcement that his weapons are ready to fulfill any Iranian demand over developments in the region,"the statement continued.