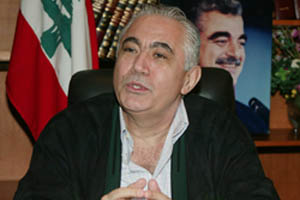 March 14 MP Ammar Houri told OTV on Saturday that the president will not sign off on any cabinet that he will view as unacceptable.
"We trust that President Michel Suleiman will not sign a decree [approving] an unacceptable cabinet," he said
Houri reminded Prime Minister-designate Najib Mikati that he "signed" off on the principles of the Dar al-Fatwa statement, and added that acting outside these principles would be tantamount to political suicide.
Sunni political and religious leaders attended an "Islamic meeting" at Dar al-Fatwa last February , following which they issued a statement warning against "giving up on Lebanon's commitment to the Special Tribunal for Lebanon (STL)." Mikati attended the meeting and reportedly accepted the statement.
Future Movement official Mustafa Allouch told MTV last February "If Mikati decides to commit to what the Dar al-Fatwa's statement approved of, then there is no need for March 14 to participate in the cabinet since the Ministerial Statement will be based on Dar al-Fatwa's statement. March 14 will then move into opposition to monitor the implementation of the Ministerial Statement."
The Iranian and Syrian -backed Hezbollah brought down PM Saad Hariri's government on January 12 over the Special Tribunal for Lebanon's (STL) imminent indictment which is widely expected to implicate Hezbollah members in the assassination of former PM Rafik Hariri in 2005
Mikati was appointed in January as the PM designate with the backing of the Hezbollah March 8 alliance and MPs Walid Jumblatt and Mohammad Safadi following the collapse of Hariri's unity government. March 14 leaders have repeatedly said that intimidation from Hezbollah's weapons helped secure the parliamentary majority for Mikati's nomination.
Jumblatt and his PSP parliament members reportedly switched allegiance to Hezbollah's PM candidate, following threats by Hezbollah.
Jumblatt, Mikati and Safadi were all elected on March 14 electoral tickets during the 2009 parliamentary elections.
Hezbollah is now claiming the parliament majority
March 14 parties have announced that they will not take part in the cabinet Mikati is currently forming, and Hariri vowed to fight the use of non-state weapons "peacefully and democratically."
A dispute between FPM leader MP Michel Aoun , Mikati and president Suleiman is reportedly delaying the cabinet formation.