Syria's 'Day of Dignity ', update
This is an update on the Day of Dignity protests in Syria. The Syrian Revolution 2011 called on Facebook for a nationwide protest on Friday March 25 . It called Friday the Day of Dignity.
Reuters: Syrian secret police arrest at least three people in Damascus among marchers in support of Daraa city

Al-Arabiya: Thousands of protestors in Daraa chant slogans demanding freedom
Reuters: Syrian secret police disperse protesters in Damascus, arrest dozens
city. About 200 demonstrators marched in central Damascus.
Eyewitnesses: Syrian security forces sought to disperse by force thousands of demonstrators in al-Marja in Damascus.
Eyewitnesses: Hundreds of demonstrators in Homs called for freedom and the toppling of the governor.
Al-Jazeera: Authorities in Daraa banned the media and reporters from entering the city and asked them to return to Damascus.
Al-Arabiya: Protesters in Daraa chant slogans against Bashar al-Assad's brother, Maher
Al-Arabiya reports demonstrations in Damascus, Duma, Latakia, Homs and Reka
Report: Hundreds of protesters began heading to Daraa from nearby villages shouting slogans in favor of more freedom.
Hundreds of people are marching from Omayyed mosque in the centre of Damascus' Old City along Souk Al-Hamadiyeh street chanting: "Daraa is Syria" and "We will sacrifice ourselves for Syria."
Supporters of Syrian President Bashar al-Assad are taking on the protesters, and replying with the chant: "God, Syria and Bashar, that's all."
In Daeel, south of Damascus and about 30km north of Daraa, 300 people marched preceded by motorcycles, shouting: 'Daeel and Daraa will not let themselves be humiliated.'
Reports say that at least five people were taken away by police in plain clothes.
Syrian opposition leaders-in-exile in Paris called for the downfall of President Bashar al-Assad, asking France to maintain pressure on the Syrian leader to 'halt the killing of innocents.'
Reuters: Protesters in the Syrian city of Deraa shouted slogans on Friday denouncing Maher Assad, brother of the Syrian president and head of the Republican Guard.
"Maher you coward. Send your troops to liberate the Golan," thousands chanted as they headed to the main square in the city after the funeral of at least five protesters killed by security forces this week.
Earlier Daraa's Mukhtar (village chief) Muhammad al-Mehamid claimed that protesters in Daraa captured an Iranian sniper brought into the area to fire at protesters. "What's happening in Daraa is a great embarrassment to President Assad," he said in a TV interview. "Images of weapons which Syrian TV said came from Daraa are baseless. The Syrian intelligence cooked it up. The fire came from one source only – the Syrian's regime."
Al-Arabiya: protests against the Syrian Regime expanded to several Syrian cities..Damascus, Homs , Latakia, Dooma, Riqqa
France on Friday called for the "rapid and effective implementation" of reforms promised by Syria, including the lifting of the state of emergency in place for nearly five decades.
"France has taken note of the reforms announced yesterday by Syrian authorities," said foreign ministry spokesperson Bernard Valero.
"We call for the rapid and effective implementation of the reform measures announced yesterday , including the lifting of the state of emergency and the release of prisoners detained for having participated in protests," foreign ministry spokesperson Bernard Valero said .
AFP: Reports of deaths in shooting during demo near Syria's Daraa
AFP: Several killed in attack on south Syria demo
Reuters: Eyewitness reports say around 1,000 people rally in the streets of Tel, a town near Damascus in Syria, in support of protesters in Daraa
Al jazeera: Syrian security forces have opened fire on anti-government protesters near the city of Daraa, killing at least 20 people, residents have told Al Jazeera.
Syria's information minister said Friday the situation was "totally calm" throughout the country .
"There is a totally peaceful climate in the Syrian towns and the terrorists have been arrested," Mohsen Bilal told Spanish radio Cadena Ser.
Al Arabiyah : 3 killed in Homs, 2 in Damascus 1 in Latakia and 20 in Sanamein near Daraa
watch the video on the Sanamein massacre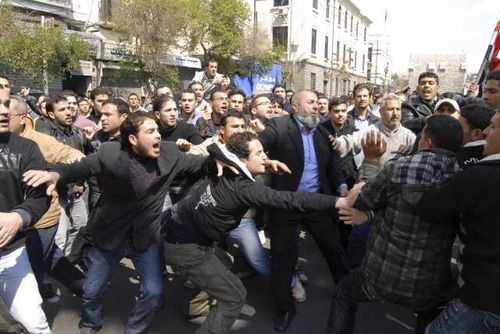 Reuters: protesters in Daraa set  fire to  the statue of former president Hafez Assad, father of current president Bashar
Syrian Human Rights Observatory reported 3,000 people taking to the streets of Banyas, a city on the Mediterranean coast.
Members of the European Parliament on Friday released a statement condemning the online crackdown by the Syrian government as violent protests are reported throughout the country.
The parliament members claimed that Syrian authorities were using the internet to trace personal information about users and forcing people to share their passwords with security forces.
Tens of thousands of Syrians were taking to the streets across the country in the most widespread civil unrest in years, defying crowds of government backers and baton-wielding security forces to shout their support of the uprising in Daraa, according to witnesses, activists and footage posted online.
Reuters reported that Syrian security forces shot and killed three protesters in Damascus
Reports of heavy gunfire in the Damascus neighborhood of Darayya. Security forces have closed down most of the roads leading to the area . (S.N.N)
Report says says wounded protesters are lying on the ground in the Moaddamyeh neighborhood of Damascus, and no one can reach them because the area has been sealed off by security forces.
A report confirms that people in Damascus are distributing food and drinks to help keep protests going.
Human Rights Watch, said Thursday that around three dozen people were killed in clashes in a 48-hour period.
"Syria's security forces are showing the same cruel disregard for protesters' lives as their counterparts in Libya " said Sarah Leah Whitson, Middle East and North Africa director at Human Rights Watch.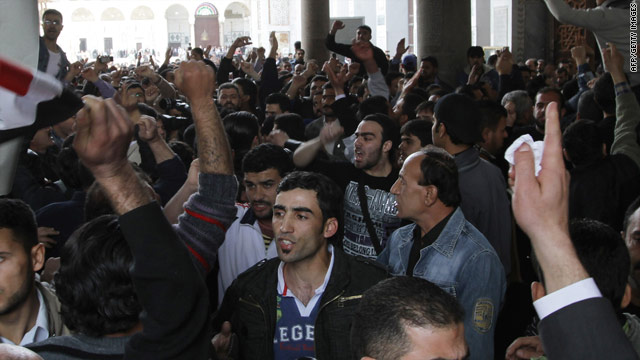 French President Nicolas Sarkozy has warned all Arab rulers that they risk Libya-type intervention if they cross a certain line of violence against their own people.
The president told press at an EU summit in Brussels on Thursday (24 March) that UN Security Council resolution 1973 authorizing air strikes on Libya has created a legal and political precedent on the "responsibility to protect."
Referring to deadly violence in Syria, he explained: "Every ruler should understand, and especially every Arab ruler should understand that the reaction of the international community and of Europe will from this moment on each time be the same: we will be on the side of peaceful protesters who must not be repressed with violence."
Al-Jazeera reported that the Syrian security forces closed all roads leading to Latakia city
Reuters: A leading Syrian opposition figure called on the international community on Friday to intervene to stop "the massacres against civilians by President Bashar al-Assad's regime" in protests across Syria.
"There are killed and wounded and those who are arrested in all the provinces," he told Reuters by telephone from Canada, referring to protests that spread beyond the southern town of Deraa on Friday challenging Assad's rule.
View the video on the removal of Hafez al Assad poster in Homs