Jumblatt trying to unify March 8 vision, report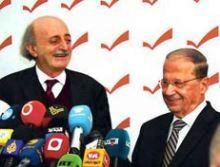 MP Walid Jumblatt called his meeting yesterday with MP Michel Aoun in al Rabiyah excellent and said it was part of his effort to unify the vision of March 8 alliance
"The meeting was excellent," Jumblatt told An Nahar newspaper on Tuesday and added: "It comes as part of steps needed to unify the vision within the single team."
The PSP leader told As Safir : "Despite the rumors … we are a single political team."
Just like PM Designate Nagib Mikati , Jumblatt denied any Syrian intervention in the formation of the cabinet …he said the obstacle are local .
"The obstacles are local and happen in all countries," he said
"There is no doubt that there are obstacles. We met with Aoun to confront them and come up with a positive result," he said.
During his meeting with Aoun Jumblatt was accompanied by PSP Caretaker ministers Ghazi Aridi and Wael Abou Faour . Aoun was accompanied by his son-in-law Caretaker Minister Gebran Bassil > Following the meeting Aoun hosted a dinner in their honor .
The Iranian and Syrian -backed Hezbollah brought down Hariri's government on January 12 over the Special Tribunal for Lebanon's (STL) imminent indictment which is widely expected to implicate Hezbollah members in the assassination of former PM Rafik Hariri in 2005
Mikati was appointed in January as the PM designate with the backing of the Hezbollah March 8 alliance and MPs Walid Jumblatt and Mohammad Safadi following the collapse of Hariri's unity government. March 14 leaders have repeatedly said that intimidation from Hezbollah's weapons helped secure the parliamentary majority for Mikati's nomination.
Jumblatt and his PSP parliament members reportedly switched allegiance to Hezbollah's PM candidate, following threats by Hezbollah.
Jumblatt, Mikati and Safadi were all elected on March 14 electoral tickets during the 2009 parliamentary elections.
Hezbollah is now claiming the parliament majority