Aoun accuses Lebanon president of obstructing cabinet formation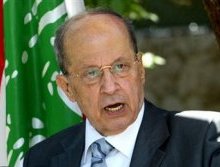 Following the Change and Reform bloc's weekly meeting FPM leader MP Michel Aoun accused President Michel Suleiman "of obstructing the rule and paralyzing the formation of a new government."
"The president is the one who crippled constitutional institutions and he is the one crippling governance at the moment." he said
Aoun also attacked March 14 parties for allegedly making negative remarks against Hezbollah during the 2006 July War and said that March 14 "must be tried"
"They must be tried, or else we, who stood behind the Resistance would be condemned." Aoun said in reference to the WikiLeaks cables .
He also accused al Mustaqbal movement, a key member of March 14 alliance of betraying Hezbollah following the 2005 elections ( after jointly securing the parliament majority) .
In response to a question about being the main obstacle facing the government formation he said :
"For someone to be considered an obstacle in forming the government, he has to be making impossible demands … which we are not doing."
He also said " I hear a lot of hearsay about forming a cabinet of technocrats and added "we also have qualified technocrats", stressing that the cabinet should only be formed by the new March 8 majority and the parties within the alliance should not set up booby traps for themselves because these can explode.
He said he still supports PM designate Nagib Mikati in his efforts to form the cabinet
The Iranian and Syrian -backed Hezbollah brought down Hariri's government on January 12 over the Special Tribunal for Lebanon's (STL) imminent indictment which is widely expected to implicate Hezbollah members in the assassination of former PM Rafik Hariri in 2005
Mikati was appointed in January as the PM designate with the backing of the Hezbollah March 8 alliance and MPs Walid Jumblatt and Mohammad Safadi following the collapse of Hariri's unity government. March 14 leaders have repeatedly said that intimidation from Hezbollah's weapons helped secure the parliamentary majority for Mikati's nomination.
Jumblatt and his PSP parliament members reportedly switched allegiance to Hezbollah's PM candidate, following threats by Hezbollah.
Jumblatt, Mikati and Safadi were all elected on March 14 electoral tickets during the 2009 parliamentary elections.
Hezbollah is now claiming the parliament majority.