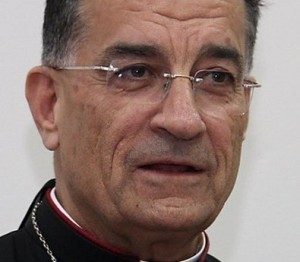 Newly-elected Maronite Patriarch Beshara Boutros al-Rai said on Friday that he did not address the issue of Hezbollah's arms during a meeting with a delegation from the party earlier in the day.
MTV reported that Rai voiced the need to resume national dialogue sessions during his meeting with the Hezbollah delegation.
"Disputes between the Lebanese people are about details and strategies, but not about principles," the patriarch said.
"The political and party leaders should implement these values and Bkirki is keen on achieving a free, sovereign, and independent Lebanon," lRai stressed.
He also said that he will not issue any position regarding Hezbollah's use of arms before he discusses the matter with the Maronite archbishops.
He reiterated that he will visit Syria later this year for religious purposes.
"The matters between Lebanon and Syria are political…they only concern the politician…I am not a man of state [to deal with them]."
A high ranking Hezbollah delegation headed by hezbollah bloc leader MP Mohammad Raad congratulated Rai in Bkirki on Friday.
Raad
"We hope that the patriarch would deal with the national interests of the Lebanese by taking a unifying stance," Raad told reporters after the meeting
"We informed him about our willingness to resume dialogue and strengthen it in the next stage," Raad said
Asked about Hezbollah's relations with Bkirki, Raad said: "We are encouraged by the patriarch's policy which is based on harmony and agreement among all Lebanese."
Raad said he relayed a message from Hezbollah Secretary General Sayyed Hassan Nasrallah congratulating the Patriarch
Rai, 71, was elected on Tuesday as the 77th patriarch of Lebanon's Maronites, the country's largest Christian community which makes up about one third of the four-million population.
He succeeds Nasrallah Boutros Sfeir, who resigned recently due to his age after serving for 25 years as Patriarch of Antioch for the Maronites.
Sfeir, 90 had asked several months ago to be relieved of his post because of his age. Sfeir's resignation was accepted last month during a meeting with the pope on the sidelines of a visit to the Vatican to unveil a statue of the Maronite Church founder Saint Maroun on the outer wall of Saint Peter's Basilica.
Patriarch Rai is known for opposing Hezbollah arms. In April 2010 he told Voice of Lebanon that the Lebanese cabinet should have control over Hezbollah's weapons arsenal.
Rai, who was Archbishop of Jbeil at the time voiced concern over the party's armament, and called for a unanimous decision regarding the general use of weapons in Lebanon.