Clinton makes first visit to post-Mubarak Egypt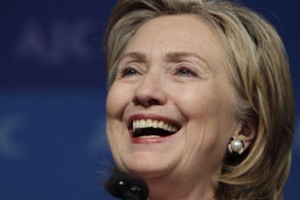 U.S. Secretary of State Hillary Clinton on Tuesday began the highest-level visit to Egypt by a U.S. official since an uprising toppled President Hosni Mubarak, for decades a close ally of Washington.
She is expected to urge the military rulers to whom Mubarak handed power on February 11 to lay the ground for a genuine transition to democracy and offer support to the Egyptians whose mass uprising swept him from office.
One coalition of pro-democracy activists said it had turned down an invitation to meet Clinton in protest at U.S. policy toward Egypt and the U.S. position on the anti-Mubarak revolt. Mubarak crushed opposition during his three decades in power.
U.S. President Barack Obama lavished praise on the protesters the day Mubarak stepped down but it was too little too late for the Egyptian activists, who felt his administration gave Mubarak too much support during the uprising.
The January 25 coalition, made up of six youth groups, said in a statement that Clinton was not welcome "because the U.S. administration long supported Mubarak's corrupt, dictatorial regime financially, politically and morally."
They also called for a more balanced relationship between Cairo and Washington, whose influence they blame for shaping Egyptian policies including their country's role in enforcing the blockade of the Hamas-run Gaza Strip.
"We Egyptians, after regaining authority over our land, will only settle for mutual equitable relations based on autonomy, friendship and respect that is reciprocated between both the American and Egyptian nations," it said.
A cautious approach during the uprising put the U.S. administration out of step with protesters and Washington was criticised for being slow to grasp the scale of the upheaval.
Cairo has been a close U.S. ally since the 1970s, when Washington brokered Egypt's peace treaty with Israel.
CORNERSTONE OF U.S. POLICY
Washington's alliance with Egypt has been a cornerstone of its policy in the region and the country is a recipient of some $1.3 billion in U.S. aid per year. Washington has said it will spend a further $150 million to assist the move to democracy.
Clinton will meet Field Marshal Mohamed Hussein Tantawi, head of the ruling Supreme Council of the Armed Forces, on Wednesday, Egyptian officials said.
She will also see Foreign Minister Nabil Elaraby, who took office as part of a recent cabinet reshuffle that purged remnants of Mubarak's administration.
The military has promised to cede power to an elected government as soon as possible. Diplomats, analysts and Egyptian politicians believe the army does not want to stay in power.
In speeches in recent weeks, Clinton has stressed the difficulties of nurturing the institutions that support democracy, including robust political parties, a free media and the rule of law.
Asked to summarize Clinton's message, a U.S. official said: "What happens next is as important as what came before. Transitions to democracy are difficult and they don't produce results overnight or end with the first successful election."
The army dissolved parliament, suspended the constitution and has mapped an initial path to elections within six months, with a March 19 vote on constitutional amendments, parliamentary elections in June and a presidential vote six weeks later.
There are calls for the timetable to be changed.
Some Egyptian activists are concerned it is too tight and will give an advantage to the well-organized Muslim Brotherhood, an Islamist group, and the remnants of Mubarak's National Democratic Party.
U.S. concerns in the new Egypt include the role the Muslim Brotherhood might play in the government and how that could affect Egypt's 1979 peace treaty with Israel.
Essam al-Erian, a spokesman for the Brotherhood, said the organization had not been invited to meet Clinton. "We have not been invited and if we are we will reject (the invitation)," he said. "Any American intervention will be to halt the revolution and obstruct it and not to support it." Reuters