Geagea: Any decision should take Sunday's rally into account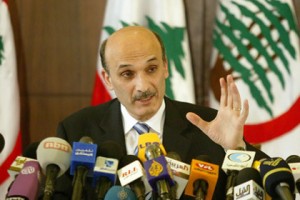 Lebanese Forces leader Samir Geagea urged Prime Minister-designate Najib Mikati on Monday to listen to the statements made at the March 14 coalition's Sunday rally.
"Mikati should listen to what was said in the rally," Geagea said during a press conference.
Geagea thanked all the Lebanese who participated in the March 13 rally and called on President Michel Suleiman and Mikati to take into account the scene of more than half of the Lebanese people who participated in the demonstration.
"The people expressed their view by rejecting the use of illegitimate arms and committing to the Special Tribunal for Lebanon (STL)." He said
"I am not trying to hold Suleiman and Mikati responsible, but I would like to draw their attention to the need to seriously consider people's demands because nobody can take decisions in the country without taking Sunday's rally into account." He stressed
He also stressed that the Ministerial Statement of Mikati's upcoming cabinet should "consider the demands of half of the Lebanese population by reiterating the country's commitment to the STL."
Geagea questioned Mikati's statements over the March 14 rally, calling them "inaccurate."
Mikati criticized The speeches of the March 14 leaders during the rally : "Had Martyr ( Rafik) Hariri been alive today, he would've rejected the strife-inciting remarks that were made today near his tomb in downtown Beirut." He said
Geagea, who held the press conference after meeting with Deputy Speaker Farid Makari and MP Farid Habib criticized the "attempts by the other camp ( March 8) to belittle yesterday's events."
"Sunday's rally will remain a major national occasion in Lebanon's political life for decades to come," Geagea added.
"More than half of the Lebanese headed down to Martyrs Square to announce their position from the Special Tribunal for Lebanon and the illegitimate arms and therefore those who should listen to the people should pay attention to them because some sides in Lebanon no longer hear," Geagea stressed.
"Do not rest until the 'statelet" is extinct and the state is established," Geagea said during the rally , in reference to Hezbollah's state within a state and its non-state weapons,
In a country of 4 million people, more than one million Lebanese of all faiths… Christians, Druze , Muslim Shiites and Sunnis demanded that Hezbollah be disarmed as they rallied to mark the sixth anniversary of the Cedar Revolution, the uprising which inspired the recent revolts in the Middle East, International news agencies reported.