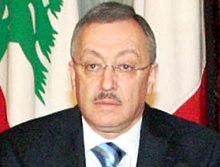 March 14 MP Ahmed Fatfat questioned Mikati's criticism of the speeches during the Sunday rally
"Wasn't it better for Mikati to criticize his new ally FPM leader MP Aoun who issued strife inducing statements on slain PM Rafik Hariri, or are obligations towards allies more important than martyrs?"
Fatfat's comment comes after Lebanon PM-designate Nagib Mikati criticized The speeches of the March 14 leaders during the rally : "Had Martyr ( Rafik) Hariri been alive today, he would've rejected the strife-inciting remarks that were made today near his tomb in downtown Beirut."
Commenting Saturday on the eve of the Sunday rally by the March 14 alliance against the non-state ( illegal ) arms, Aoun said : It is better if they go to sleep and not bother themselves about the arms because no one in the world can help them disarm the resistance , not the UN , nor the United States nor Israel and if the arms have been used internally it is because they ( March 14 ) deserve it .
Aoun , who is the former army chief , thanked God for Hezbollah and its arms…"if we had a real army we would not have needed the resistance ." He said.
In a country of 4 million people, more than one million Lebanese of all faiths… Christians. Druze , Muslim Shiites and Sunnis demanded that Hezbollah be disarmed as they rallied to mark the sixth anniversary of the Cedar Revolution, the uprising which inspired the recent revolts in the Middle East, International news agencies reported
This error message is only visible to WordPress admins
Error: No connected account.
Please go to the Instagram Feed settings page to connect an account.