CNA: March 14 to meet within 48 hours to discuss next steps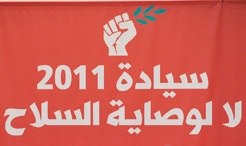 Central News Agency has reported that the march 14 opposition leaders will be meeting within the next 48 hours for consultation over the following key issues:
1- Evaluation the implications of the Sunday rally that marked the 6th anniversary of Cedar Revolution
2- Drawing a road map for the next stage and working on programs and mechanisms that will translate the Sunday slogans into action
3- Embark on an organizational structure the March 14 alliance that will take into account the party leaders, ministers, parliamentarians and civil society representatives.
In a country of 4 million people, more than one million Lebanese of all faiths… Christians, Druze , Muslim Shiites and Sunnis demanded that Hezbollah be disarmed as they rallied to mark the sixth anniversary of the Cedar Revolution, the uprising which inspired the recent revolts in the Middle East, International news agencies reported.
The theme at Sunday's rally was simple:" We want one state …one army to defend the country …lets unite the country and get rid of all the other states and armies ." the organizers said in reference to Hezbollah's state within the state of Lebanon and the non-state ( illegal) arms.