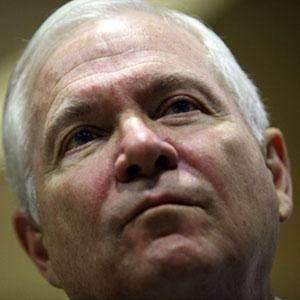 U.S. Defense Secretary Robert M. Gates said Saturday that the U.S. military, already fighting two wars in Muslim nations, would have no trouble enforcing a no-fly zone over Libya if President Obama orders one.
The comments appeared designed to counter the criticism surrounding his earlier remarks on the issue and came as the Arab League endorsed a no-fly zone to protect Libya's civilians from forces loyal to Libyan leader Moammar Gaddafi.
Gates indicated earlier this month that the creation of a no-fly zone would be a "big operation." NATO would need to deploy an array of air power to target not only defense systems and fighter jets, but also the low-flying attack helicopters that Gaddafi has used against rebels and civilian protesters.
The assessment drew criticism, in particular, from those who favor a more aggressive American response to the Libyan conflict, now tilting back in favor of Gaddafi's better-armed forces. Some accused Gates of inflating the dangers and scope of a no-fly zone mission over a large desert country with a small population.
Speaking Saturday to reporters as he returned to Washington from Manama, Bahrain, where the Navy's 5th Fleet is based, Gates said, "A little bit too much has been read into some of my remarks last week."
ad_icon
"If we are directed to impose a no-fly zone, we have the resources to do it," he said. "This is not a question of whether we or our allies can do this. We can do it. The question is whether it's a wise thing to do. And that's the discussion that's going on at a political level. But I just want to make clear we have the capacity to do it."
While enforcing a no-fly zone over Libya is easily within NATO's military capability, there is concern that it would have little real effect on the current fighting. The United States and its allies would then be forced to consider further military action to support the rebels, according to some military and regional experts.
"Are you willing to escalate if it doesn't work?" asked Anthony H. Cordesman of the Center for Strategic and International Studies, who has studied Libya's military capabilities. "Will they even bother" to challenge a no-fly zone?
Cordesman noted that Gaddafi has not relied heavily on air power to battle the rebels and could choose not to fly his Soviet-era fighter jets while continuing to attack the opposition with artillery and ground forces.
Retired Air Force Gen. Charles A. Horner said the administration should ask itself why it wants to intervene, and what it expects to achieve, rather than how it plans to intervene. Horner said those basic questions have yet to be clearly answered.
"The air power that he's using now has some impact on the rebels, but what they are dying from is artillery," Horner said. "Next step, you say let's start bombing the artillery. The next step would be to take out his tanks. The next step would be targeting his ground forces. And then you've sided with the rebels in an all-out war. But what is the cost and what are our interests?"
Horner said NATO can effectively strike even very low-flying helicopters. But with each expansion of the kind of targets that can be hit, he said, the complexity and lethality of the operation increases.
That carries the risk of collateral damage and a backlash against the use of Western, and particularly American, military power in another Muslim country.
WP