Kuwait protesters call on PM to quit
Several hundred Kuwaitis demonstrated on Tuesday evening for a change of the Gulf state's prime minister and demanded more political freedoms.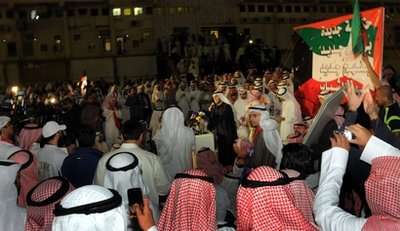 Protesters gathered in a car park they named "The Square of Change" in front of a government building and called for Sheikh Nasser al-Mohammad al-Sabah, a member of the ruling family, to leave.
Demonstrators chanted in Arabic "The people want corruption to go" and "Leave, leave Nasser" as they stood in front of a large banner which read: "A new government, with a new prime minister, with a new approach."
Just six members of the Kuwaiti youth group Kafi (Enough) were in front of parliament in the early hours of the morning.
"All the people here want to change the prime minister because he hasn't done anything for the country over the last five years," protester Abu Khalid al-Owaihan said.
"We want a new country with hospitals. There are very few of them and the level of education is very low."
The prime minister, a nephew of the ruler, has already survived two non-cooperation motions in parliament since he was appointed by the emir in 2006. All other key portfolios including defence, interior, foreign affairs and oil are held by the ruling al-Sabah family. The emir has the final say in all political matters. Some of the protest organisers not only want Sheikh Nasser to step down, but seek a replacement from outside the al-Sabah family, which has ruled Kuwait for some 250 years.
Unrest that toppled leaders in Tunisia and Egypt has sparked the insurrection in Libya and spread to Gulf countries including Kuwait, Bahrain, Oman and Saudi Arabia.
Protesters in the morning gave watermelons to a few lawmakers as a signal of their dissatisfaction in a country that has the most outspoken parliament in the Gulf Arab region.
"This is for the parliament's poor performance," one of the small band of protesters shouted as he gave a watermelon to a lawmaker making his way into the parliament.
In local parlance, a person who lacks understanding or holds an unrealistic point of view can be called a watermelon.
Kuwait, the world's fourth largest oil exporter, does not allow political parties and its parliament is made up of individuals who form loose blocs.
Tension with stateless Arabs, longtime residents of Kuwait known as "bedoun" who clashed with police last month in protests demanding citizenship, appeared to be easing after some lawmakers promised to discuss a draft law in parliament on Tuesday that would grant them basic civil rights.